Black / White / Team Yellow Puma PowerCat 1.12 Football Boots
Puma has added a fresh coat of paint to one of our favourites here at footballboots.co.uk, the PowerCat 1.12, as worn by the likes of Nemanja Vidić, Michael Carrick, Cesc Fàbregas, Gigi Buffon and Giorgio Chiellini.
Officially known as Black / White / Team Yellow, this colourway is a little more subdued after the release of the limited edition 'Gravity' shown here, and it will surely look great being worn by Marco Reus complete with Borussia Dortmund's Puma kit too.
These PWR-C 1.12 football boots still feature the innovative 3-D DUO Power Shooting Technology situated towards the front of the soft kangaroo leather upper, with the thermoplastic material with 2 different degrees of hardness allowing the ball to cushion against your foot (aiding ball control) while also offering more rebound (aiding your strike).
Meanwhile, the German brand's PowerLast follows the foot's natural contours for a glove-like fit, whereas optimal support, stability and protection are provided by the asymmetrical external TPU-injected heel counter plus a lightweight microfibre material in the lateral quarter supporting the midfoot.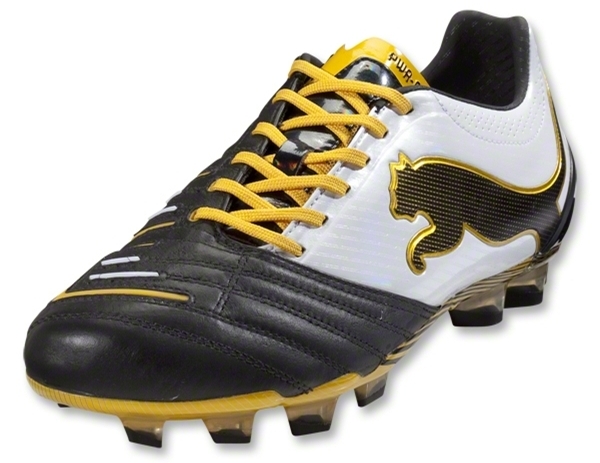 Black / White / Team Yellow Puma PowerCat 1.12 Standard
Those who do not wish to stick with the standard version have a super-light alternative of this Bumblebee or Wasp incarnation, tipping the scales at a mere 8.4 oz. or 238 g while still featuring many of the specs and features that have made the standard PWR-C edition one of the best-performing boots in the footballing world.
Such weight-stripping treatment involves a re-designed perforated tongue plus a softer and lighter K-leather upper, whilst a Pebax-injected stud configuration is employed here, but you can still enjoy the great benefits afforded by the innovative 3-D DUO Power Shooting Technology discussed above.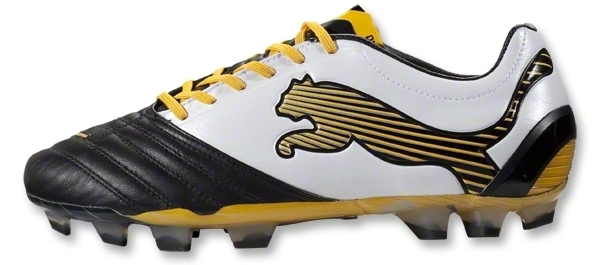 Black / White / Team Yellow Puma PowerCat 1.12 SL
#carrick #puma
Posted on September 01, 2012 Justin