Team Charcoal / White / Fluo Peach Puma V1.11 Football Boots
After the spectacular Dresden Blue edition as worn by Manchester City's star striker Sergio Agüero himself, the Puma v1.11 'speed' boot should be out in a much less flashy Black & Peach shown here.
Note that we had already presented to you this 2012 incarnation, together with another prospective Blue & Peach colourway.
One of the major features of this lightweight boot is the lace cover for a smooth kicking surface and a unique look, with a single-piece outsole maintaining stability.
A carbon-fibre plate in the forefoot reduces weight and increases reactivity in the flex area, with revolutionary Uni technology involving increased softness in the toe area.
A pointed stud configuration ensures smooth ground penetration and provides optimal traction on dry and firm natural surfaces.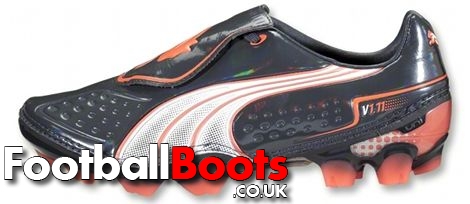 Costing approximately £ 135, this football boot should be available from February.
#puma
Posted on January 31, 2012 Justin