Take A Close Look At The Nike Elite Mercurial Superfly II
Nike have made the most technologically advanced football boot even better . . . the Nike Elite Mercurial Superfly II football boots have been set to explode at this World Cup after nearly four years of game analysis, biomechanical studies and player testing. They feature a new performance upper to improve on-field visibility and a re-engineered outsole to deliver lightweight performance.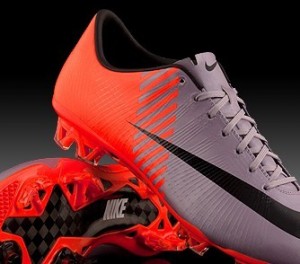 Nike designers have reduced the weight of each boot so players can perform at their best through lightweight construction, intricate engineering and carbon-enforced strength.
Nike designers have used these particular colours to spark increased focus of peripheral vision . . . Mach Purple and Total Orange provide the perfect blend to enable players to quickly spot their teammates and execute game-changing passes.
Reducing the weight carried by players by 5 % helps reduce the energy needed over the course of 90 minutes, so players have an edge in the final stages of a game.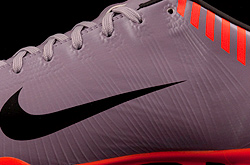 The Nike Elite Mercurial Superfly II football boots maintain the desired close fit around the foot without compromising on durability or support. Next-generation Nike Flywire technology incorporated into the boot's streamlined upper provides the unique lightweight, strong and more dynamic fit.
Furthermore, the Nike Sense adaptive traction technology involves an adaptive stud that can extend and retract by up to 3 mm.
Nike Elite Mercurial Superfly II on YouTube
#nike
Posted on June 26, 2010 Justin