The World's Most Expensive Boots!
England stars John Terry, Wayne Rooney and Rio Ferdinand have revealed three unique pairs of diamond encrusted football boots that are set to make a fortune at a charity auction.
Former fashion model and dancer Luisa Di Marco came up with the idea of designing and creating the world's most expensive boots. The boots were commissioned by Embee Jewels of London allowing Luisa to work with top fashion designer Scott Henshall, musical producer Goldie and Embee's craftsmen.
Terry's boots have been valued at £135,000 with Rooney and Ferdinand's expected to make a healthy £125,000. All three pairs will be auctioned for charity at the VIP launch of Rio Ferdinand's new Live The Dream Foundation in front of 1,200 guests in London on Wednesday 16th December.
John Terry's Umbro boots are the most expensive of the three. The England captain's footwear, which he wore in the 3-0 England victory over Belarus in October, has had 2,374 jewels individually attatched whilst the studs are tipped with 84 black diamonds and set in white gold. Other details include his children's names embroidered in red and the cross of St George etched on the tongue.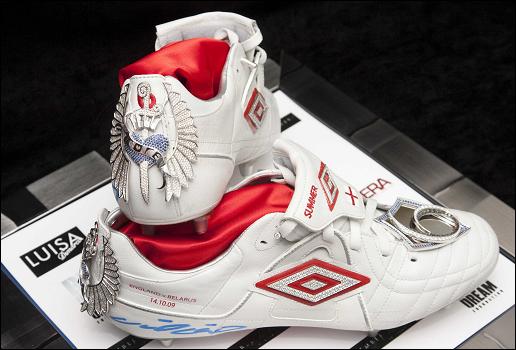 Wayne Rooney's blue and white Nike boots are smothered in 2,576 gems with more than ten caret of white diamonds and 31 caret of black diamonds. His number 10 is also moulded in rose gold which helps take the valuation of the boots up to £125,000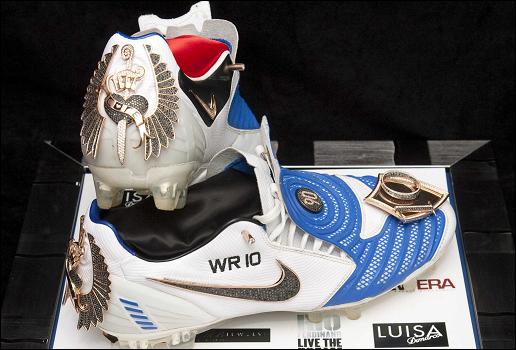 Rio Ferdinand's black and white Nike boots have been spray painted gold in a graffiti style by friend and musical producer Goldie. The boots are covered in 2,494 individual stones that majorly helped the footwear reach a valuation of £125,000. The defender's number five is encrusted in rose gold whilst the laces are also gold tipped.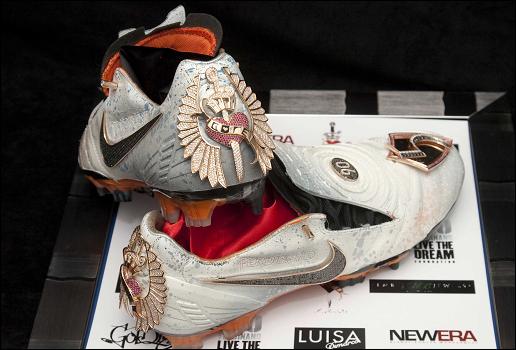 #expensive #gold #john terry #nike #rio ferdinand #umbro #wayne rooney
Posted on December 14, 2009