White Pearl / Team Gold / Puma Royal Puma PowerCat 1.12
Marketed by Puma as having everything for penalty and corner kicks, as well as physical defensive plays, the PowerCat 1.12 continues the on-pitch renaissance of the German brand, being available from 1 December at a cost of around £ 135.
Lead player Cesc Fàbregas finally launched these boots during Saturday's La Liga match between Barcelona and Sevilla, even though white-out test pairs have been spotted in numerous instances.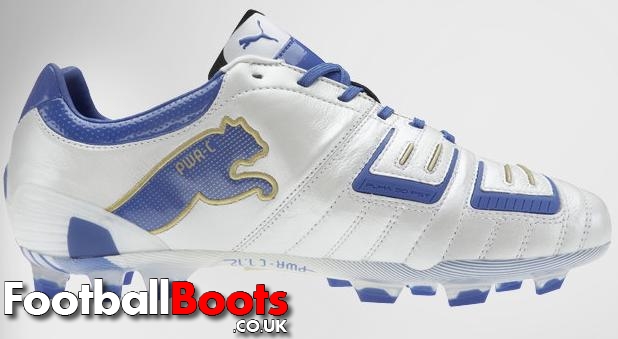 Leaked a number of times (including here), these boots involve the new Puma 3-D Duo Power Shooting Technology in the kicking area as a stand-out feature, made of an innovative thermoplastic material in two different degrees of hardness in order not to absorb energy upon ball impact and instead increase kicking power:
– the high density middle bars are highly responsive
– the surrounding low density material has extremely high rebound properties
Furthermore, the kicking area employs soft kangaroo leather, with the lightweight microfibre material in the lateral quarter reducing weight and creating a sporty look.

Visit our Facebook page and tell us what you think of the PWR-C 1.12 as a competitor of the Nike T90 Laser IV and the adidas Predator adiPower in the 'power' range of football boots.
#puma
Posted on October 25, 2011 Justin