Adam Johnson Debuts Volt Superfly III Boots
On Saturday Adam Johnson of Manchester City scored wearing the Volt Vapor Superfly III boots for the first time. Johnson scored City's first goal in a 4-0 Barclays Premier League win against Blackburn Rovers. Johnson scored with a curling shot that nestled in the top corner of the goal. His goal was the game's first in the 56th minute, but City then went on to score three more past the Lancashire side.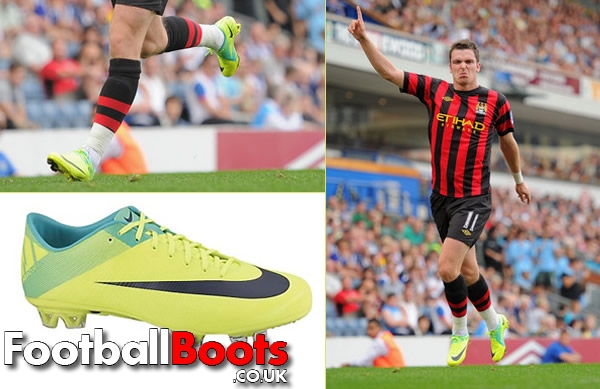 He was wearing the recently revealed Nike Mercurial Vapor Superfly IIIs in the Volt/Imperial Purple colour-way, known as the ultimate lightweight performance boot, flywire gives the boots high strength from the fibres but an super light upper.
Other players seen wearing the new boots inlcude; Celtic's Georgios Samaras, Juventus' Claudio Marchisio, Mario Götze of Dortmund, Hoffenheim's Roberto Firmin and Nike flagship boot wearer Cristiano Ronaldo.
#nike
Posted on October 02, 2011 Ian