Adidas NEMEZIZ 17+ 360 Agility 'Dust Storm' Review
Adidas smashed 2016 with their Laceless Purecontrol so do can they do it again a year later with their second general release 'laceless' silo that of the NEMEZIZ 17+ 360 Agility? We lace up the launch 'Dust Storm' edition to see if adidas have nailed it again.
FIRST IMPRESSIONS/DESIGN: Every time you unbox a boot you always notice one main thing, the design. Adidas have applied a bold, "agility" themed design incorporating a super modernistic black and white striped pattern throughout. Additional touches of 'Solar Yellow' headline the Adidas three-stripes on the lateral, overall a striking launch design to kick off the NEMEZIZ line. A brave decision but overall a good one.
COMFORT: If you want a boot purely for comfort and fit then try another silo from adidas. The marketing strategy for the NEMEZIZ is targeted for "agility" with Leo Messi headlining the range, so comfort will not be adidas' no. 1 priority with this specific model. Putting these boots on for the first time will result in a really snug and compressed fit which comes from the unique '360 Agility Bandage' System. A barefoot, snug, and lightweight experience should be what you feel with these boots and comfort is very 'mid-range'.
FIT/SIZING: True to size will ensure a perfect fit length wise. Similar to the MESSI16 range this silo fits almost every foot type but for the small percentage of wide footed footballers this may push you towards another range by Adidas such as the ACE17. Considering there are no laces to tighten the fit, you must know the size before purchasing these boots online.
BREAK-IN: The Dual Lock Collar raises slightly higher than a traditional low-collar silo which may feel jagged on your Achilles but it should loosen up a bit the more you use it. The upper will break-in very quickly as it's thin and flexible however the new TorsionFrame soleplate is very stiff from the get go which is the sole reason you need to break these boots in properly before 90 minutes of football.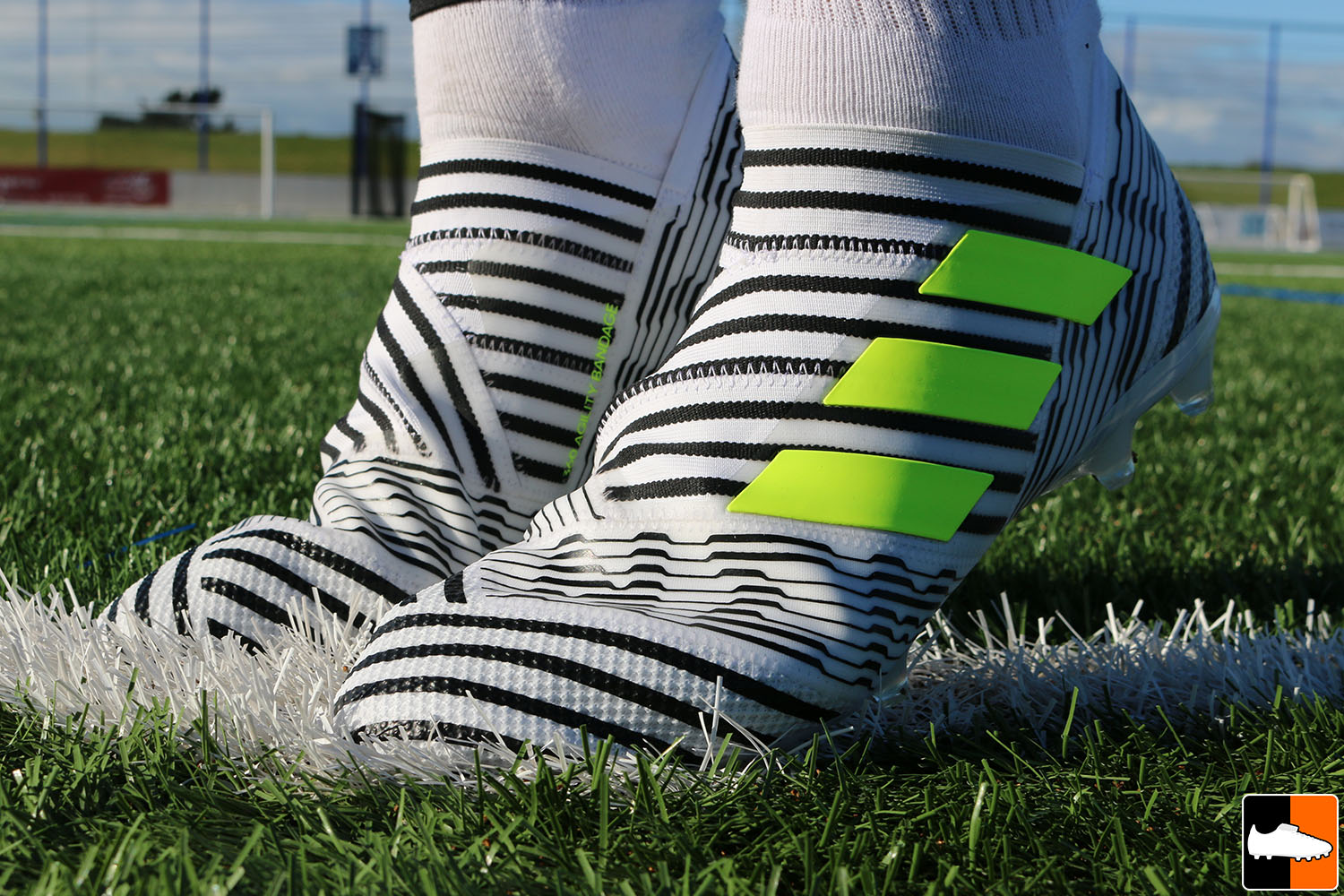 FEATURES:
LACELESS DESIGN: Who doesn't want to try a laceless boot? Every kid on the block wanted a taste of the ACE16+ PURECONTROL when it was launched at the start of 2016 and is it the same case with the NEMEZIZ? Hell yes! Taking inspiration and feedback from the PURECONTROL this model is most likely the most responsive and highest performing "laceless" boot on the market as it's much more snug, compressed and built for fast paced football compared to the ACE16 & ACE17 ranges.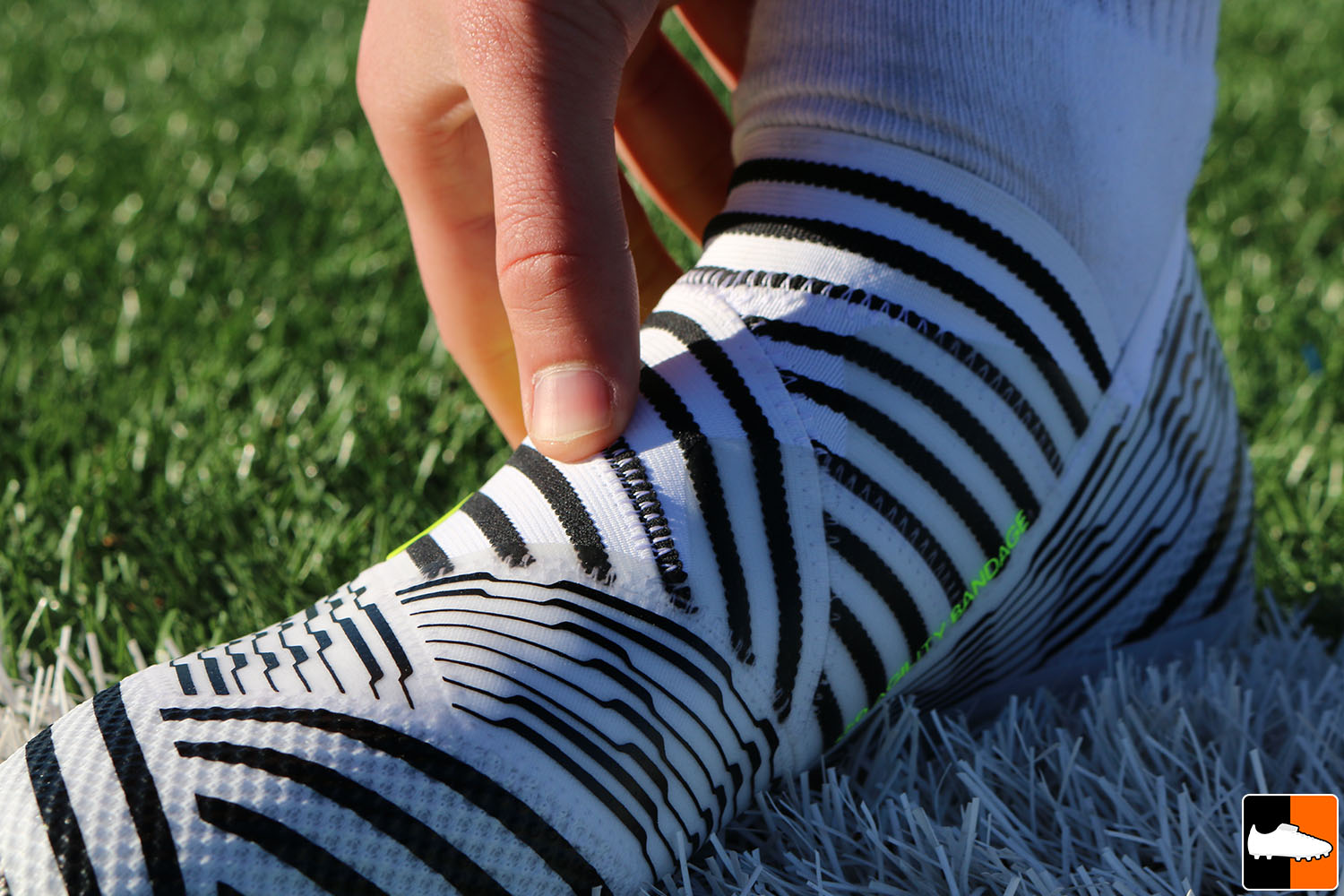 UPPER/AGILITYKNIT 2.0: Applying what Adidas call their "Agilityknit 2.0" to the forefoot this is a slight upgrade from the previous "Agilityknit" upper used on the MESSI16 line. It's again very soft, flexible and most of all high quality. This time round the upper is more "3D" which will help with ball touch and control in the toe and forefoot region. A solid upper and arguably adidas' best synthetic material they've used on any boot.
TEXTURES/NSG: NSG or Non-Stop Grip is a dotted application which has been used on the NEMEZIZ for a consistent touch in all weather conditions, similar to the concept of Nike's All Conditions Control technology. This out of all features is the hardest to test but having used other models with NSG it may slightly enhance grip especially in wet weather but not by much. You should not buy a boot based on if it has NSG or not.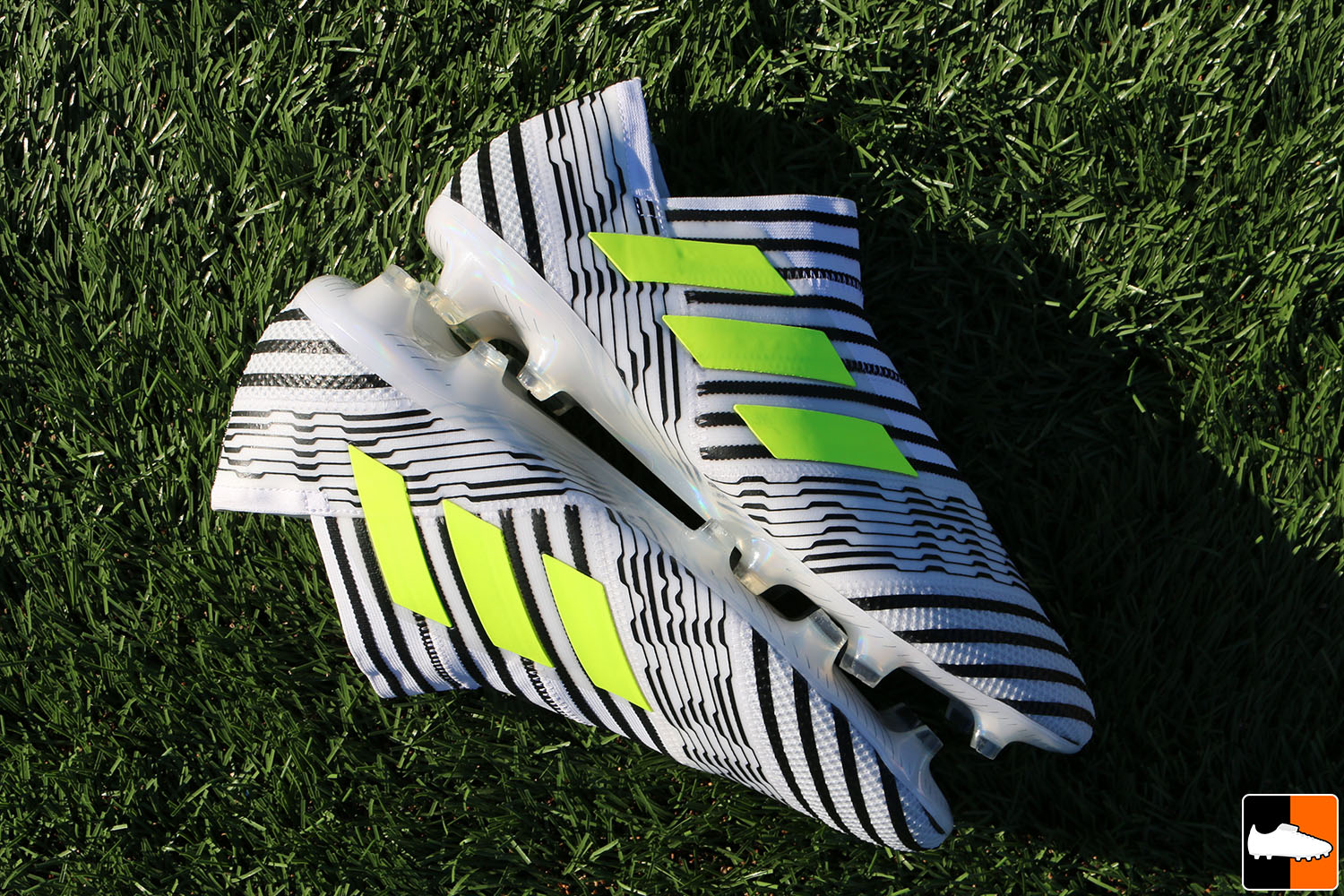 DUAL LOCK COLLAR: How can you make a traditional low-cut design look different? Introducing the dual lock collar. Made of the same bandages used on the upper, it runs up above the ankle on the front and high on the back aimed at locking down the heel into the shoe. Forming a right angle in the middle the collar it did not overly feel like an increase in lockdown. The one thing we noticed is the added height on the back which actually rubs very aggressively which may cause blisters in the initial break-in period. The front bandage has grippy panels on the inside for added lockdown. Overall a nice change from a traditional low-cut design.
SOLEPLATE/STUDS: Equipped with what Adidas call 'TorsionFrame' the soleplate is now made to be much stiffer and more responsive. Virtually a remodelled SprintFrame, the chassis material is again very lightweight and strong maintaining a level of comfort and flexibility in one. Two torsion bars have been positioned in a way to increase spring-back similar to the philosophy of the nitrocharge 1.0 with Energypulse. Overall the soleplate is very high quality, comfortable, supportive, agile and most of all lightweight. Top marks from Adidas.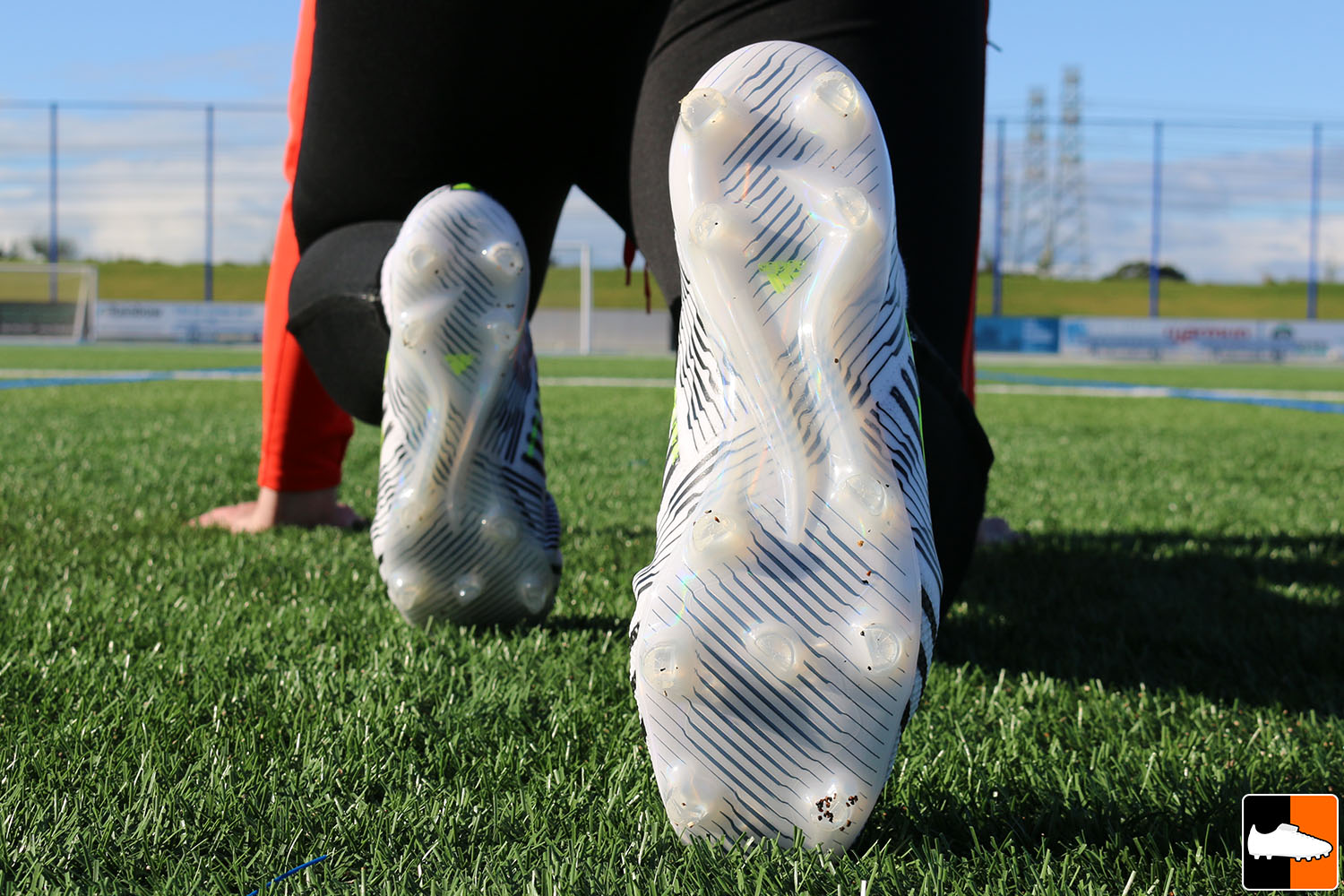 A traditional SprintFrame stud configuration has been applied which again is simple, comfortable and supportive whereas the stud shape is mostly semi-conical with agility and manoeuvrability in mind. Each and every stud features additional grooves for use on firm ground surfaces whereas the odd artificial ground won't hurt at all.
WEIGHT: 213 grams or 7.5 oz is the official weight of the Laceless NEMEZIZ which on paper sits roughly in the middle of the pack in terms of modern day football boots. It's light enough to be regarded as an agility cleat and it's not too heavy to be labelled as a 'comfort' cleat.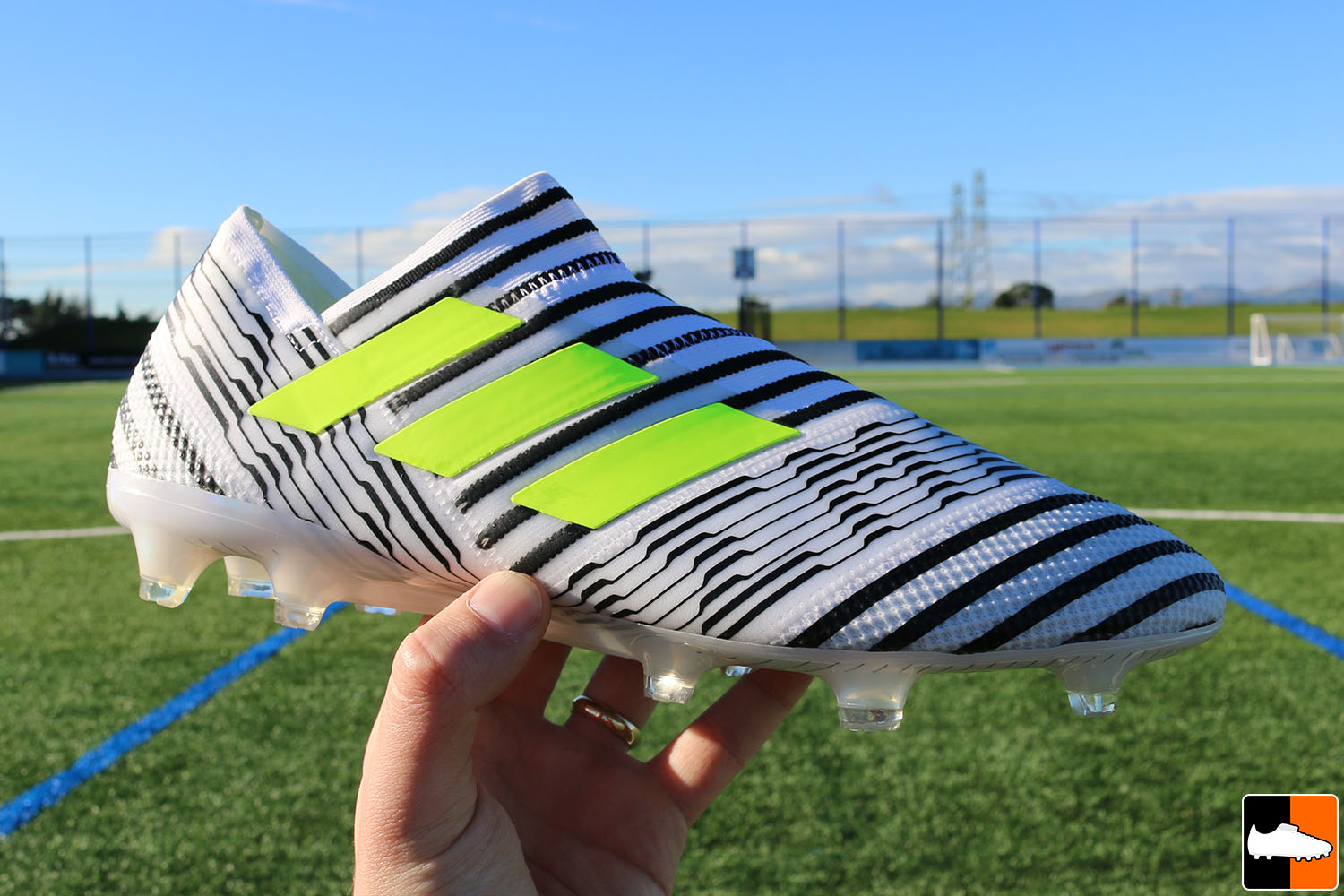 DURABILITY: An Adidas made product is generally well crafted using the highest grade of materials on the boot market and in this case the NEMEZIZ is a very "high-end" football boot. The one thing we noticed is the exposed stitching lines located in the strike region of the boot which on occasion tended to fray away after use. If taken cared for you should expect it to last a full season if not more.
VALUE: £280 is what you'll need to get your hands on a pair of NEMEZIZ which in most people's eyes is a bit too much for a pair of football boots. I think we all have to agree the NEMEZIZ is adidas' coolest and most innovative boot we have seen in a long time but for £280 this may push you towards the cheaper NEMEZIZ 17.1 option pricing in at £230.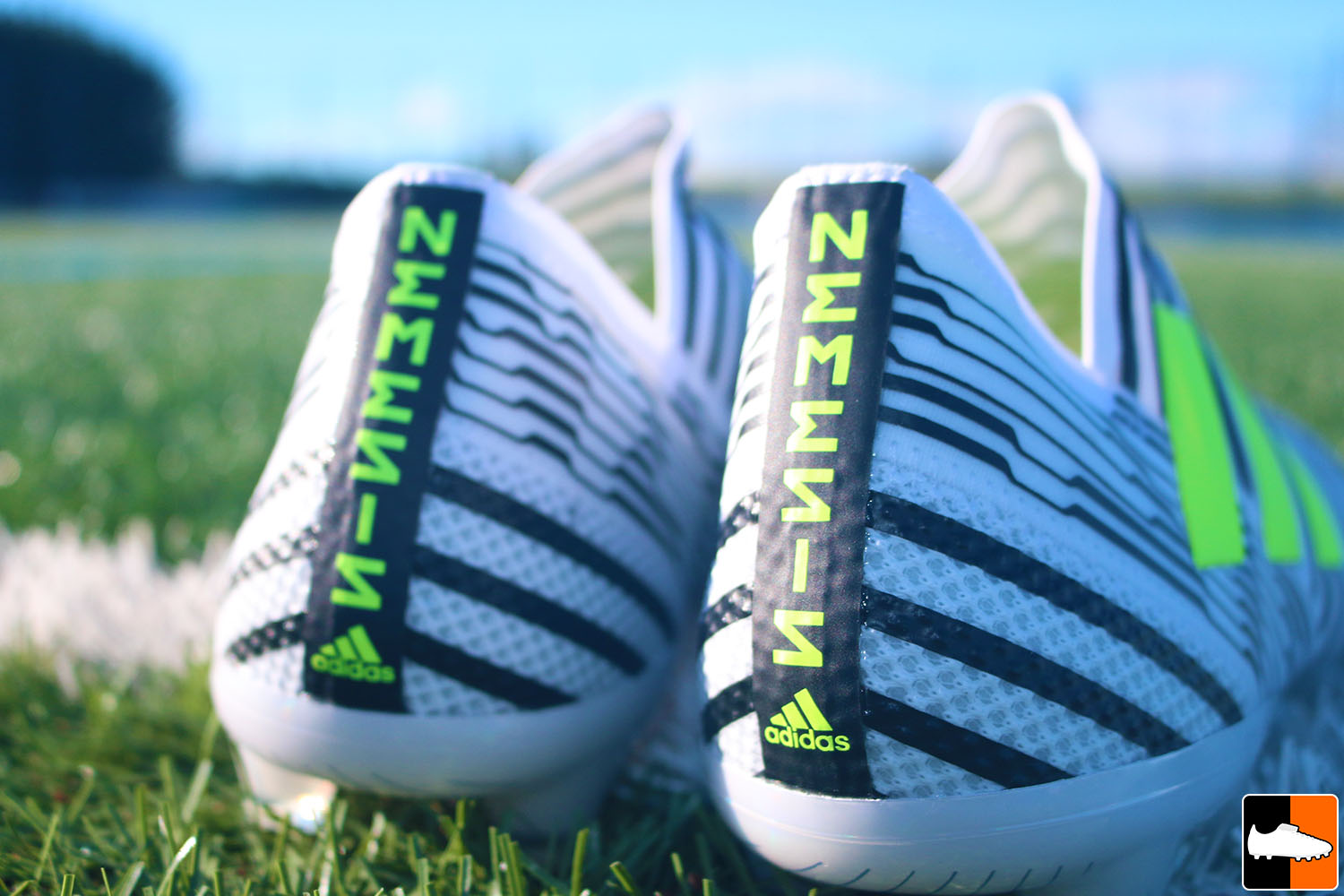 VERDICT: Out of any current adidas football boot, this one has made me the smile the most. It's tech heavy and uses one of the most unique upper technologies we have ever seen on a cleat. The three factors customers use when buying a pair of football boots is fit, looks and price. It will fit almost every foot type bar excessively wide feet so a big tick in that department, looks wise it's bold but matches the cleat's theme to a tea and price wise this is probably the worst thing with this football boot. Overall a high quality, high performing football boot which is backed by the best footballer in the world, Leo Messi.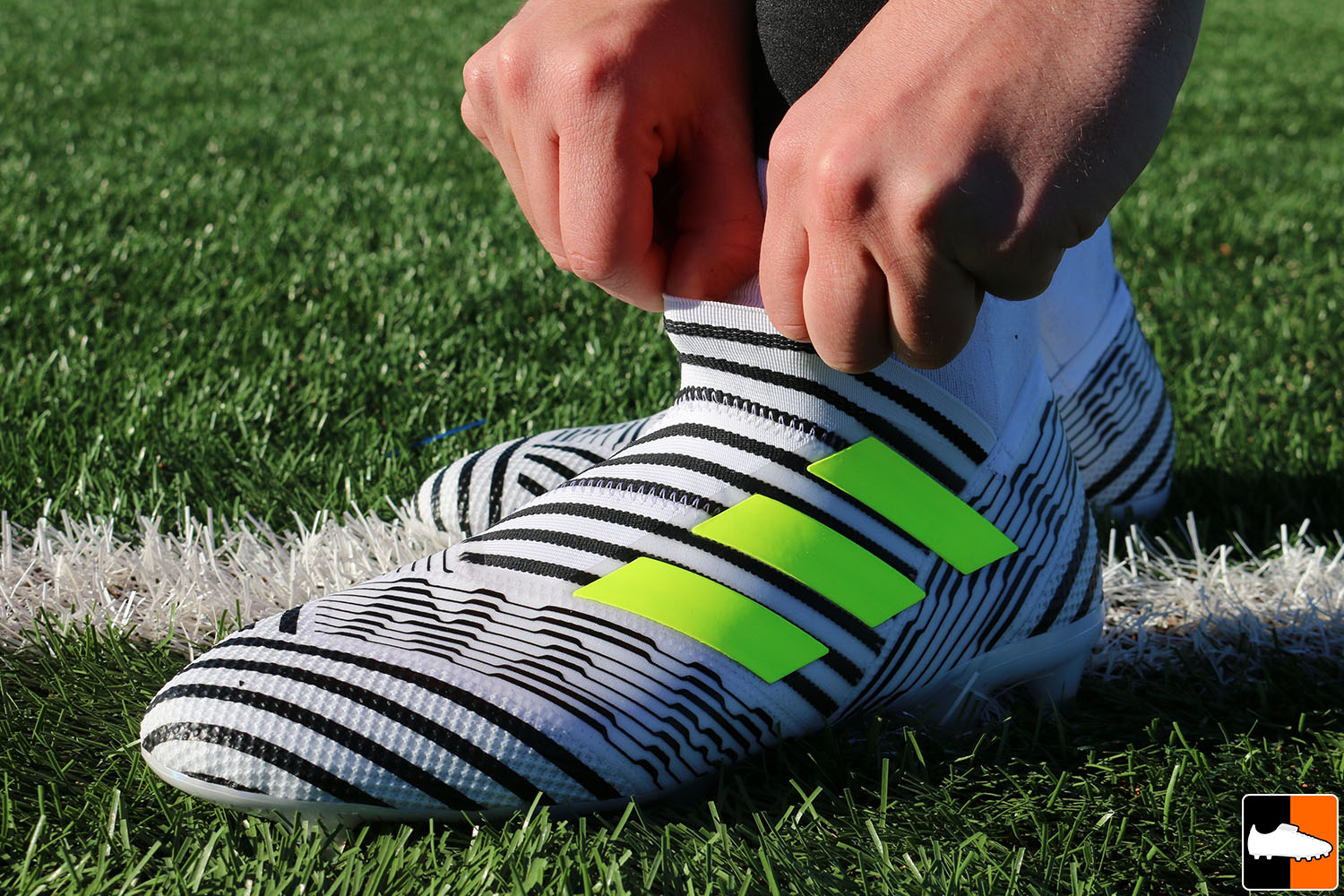 Strengths: Barefoot Touch, Compressive & Durable.
Weaknesses: Lack of Protection, Narrow Fitting & Overpriced.
Style: A bold 'centre of attention' boot that's targeted for attacking players who want to score lots of goals and not go in their own half to defend.
Key Players: Leo Messi, Julian Draxler & Jesse Lingard.
Trivia: The Messi version of the NEMEZIZ uses the original agilityknit 2.0 upper and SprintFrame soleplate.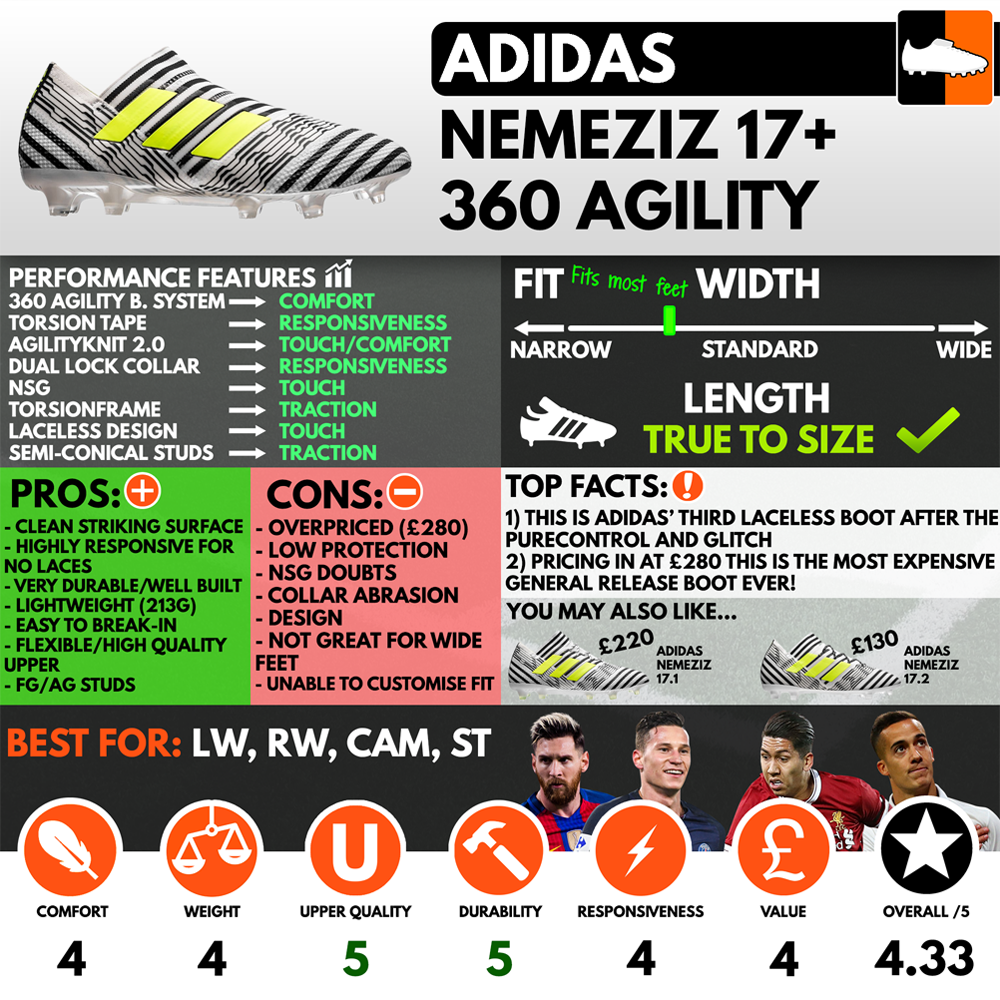 #adidas #dust_storm #review
Posted on June 13, 2017 Blake