Nike Mercurial Superfly V 'Time To Shine' Review
Back on the review game we lace up Nike's latest instalment of the 'Time to Shine' Superfly V to see if Nike's headline innovation stands up to it's popular reputation.
FIRST IMPRESSIONS/DESIGN: Inspired by sunset skies and silverware won during the end of the season this design should attract the stereotypical Superfly wearer who loves adventurous displays while for those classic purists out there this may be a colourway to avoid. Overall a unique colour scheme, two tones of orange headline the speed ribs on the medial and lateral while 'night sky' navy blue is slapped on the back of the boot for a wicked combination of light and dark. Star reflective Swoosh logos further add spice to this design. If colourways were rated on boldness this would be a 10/10.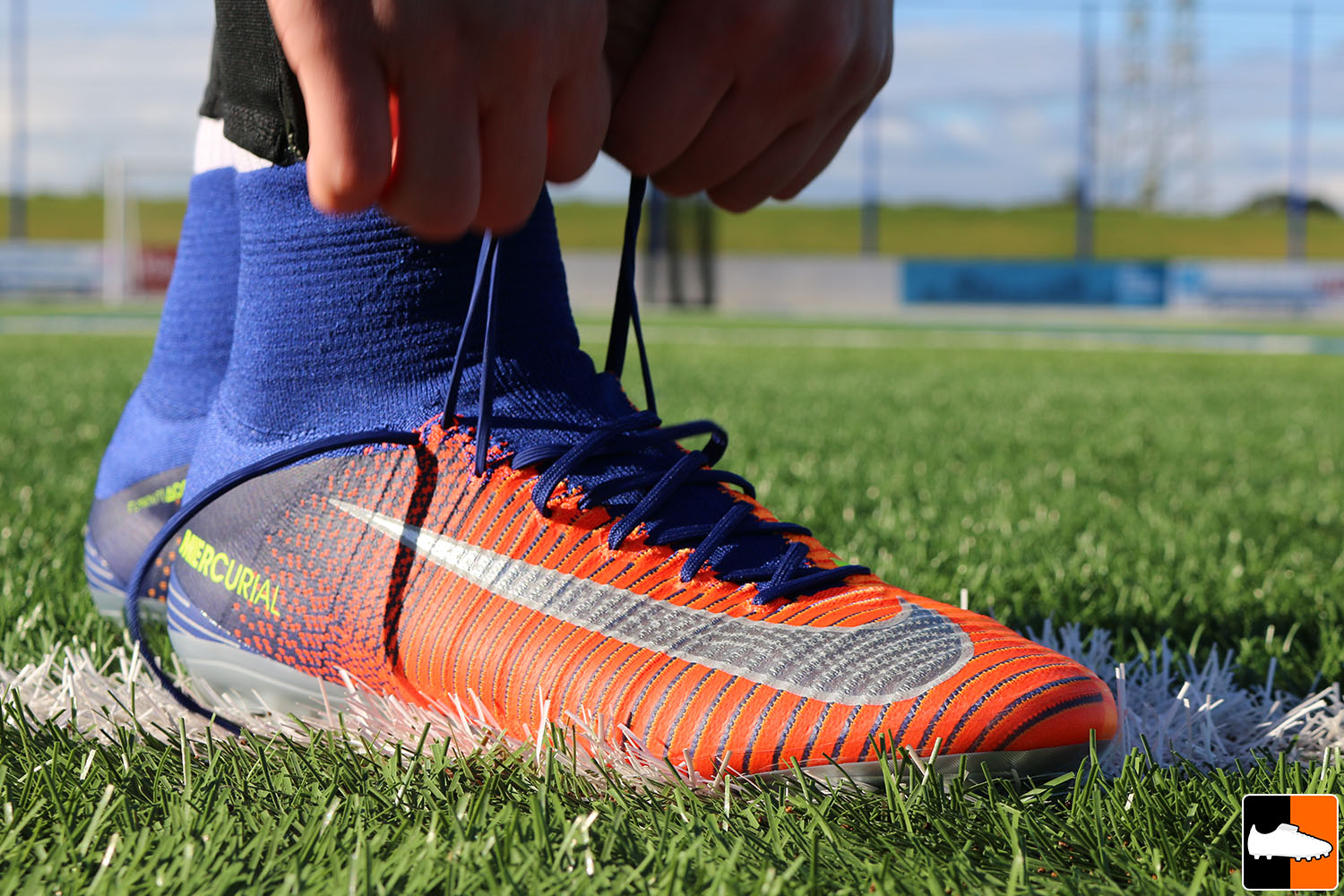 COMFORT: The MOST important factor when buying boots is comfort so does this silo which is marketed for 'speed' hit the high notes in terms of fit? Like the Superfly IV, this opts for a complete FlyKnit construction which is high grade, flexible and most of all comfortable. Lacing up straight out of the box you will feel the FlyKnit compress around your foot and ankle for an overall decent fit and feel making hit one of the best fits for a synthetic boot out there but again it's nothing like the ease and comfort of a leather product.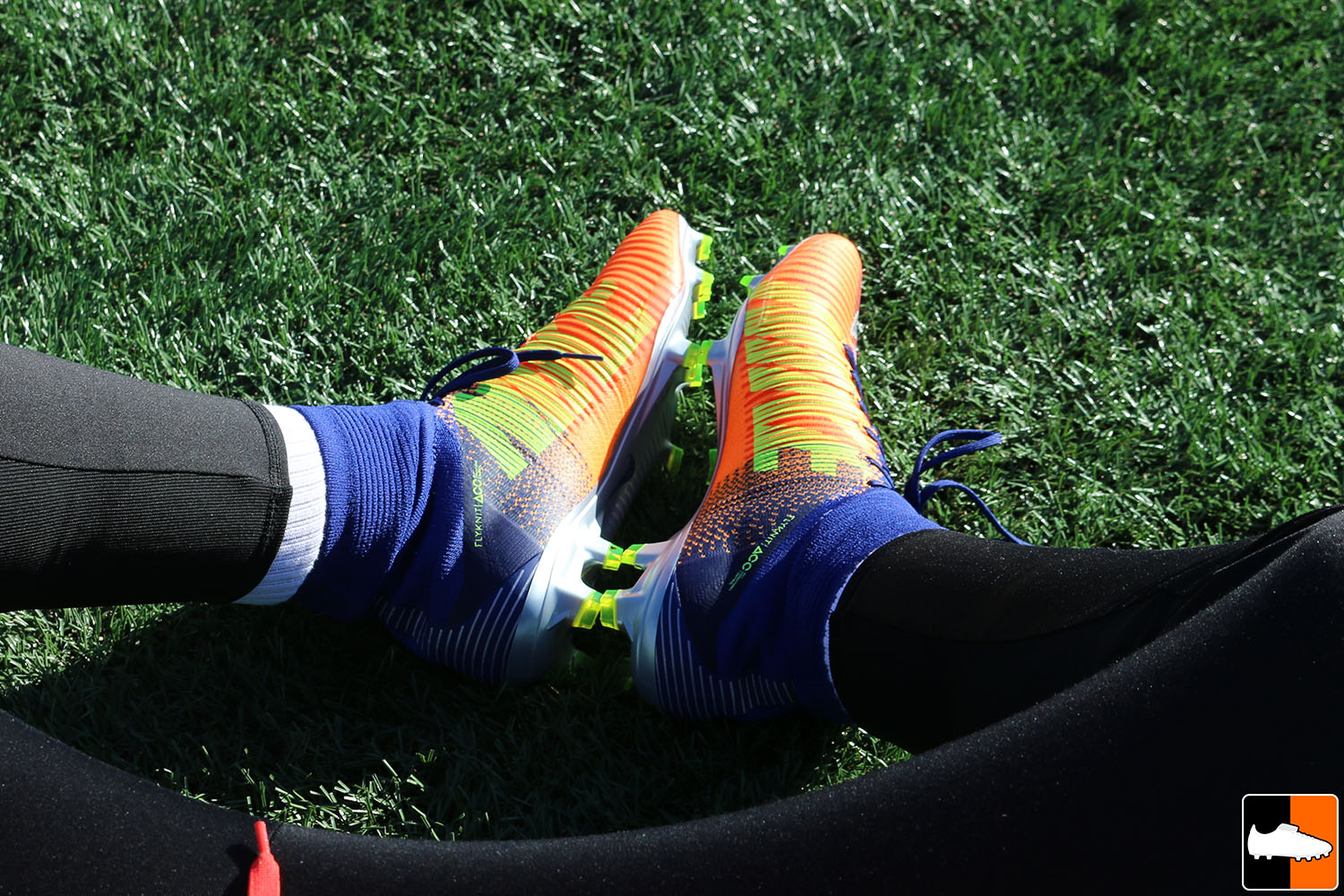 FIT/SIZING: A boot made for aggressive speed is made to be narrow and this sole reason makes this silo not amazing for wide footed footballers. The first thing you notice when lacing these boots up is the narrow fit and compressive wrap of the FlyKnit collar. True to size ensures a perfect fit whereas going half a size up may suit wide footed footballers better but be aware of the extended toe space (you don't want any more than 1-2cm of extra toe space).
BREAK-IN: Every boot on the market in this day and age needs some level of break-in time before a full 90 minutes of football. The thin and lightweight makeup of the Superfly V will minimise break-in time but again the collar will be the hardest feature to adjust to. If you have not worn a Nike collared boot before you will more than likely experience some level of heel abrasion and blisters as your Achilles tendon and ankle will need to adjust to the higher fit of a mid-cut silo. Be patient for the first few wears and it should mould and adjust to your foot.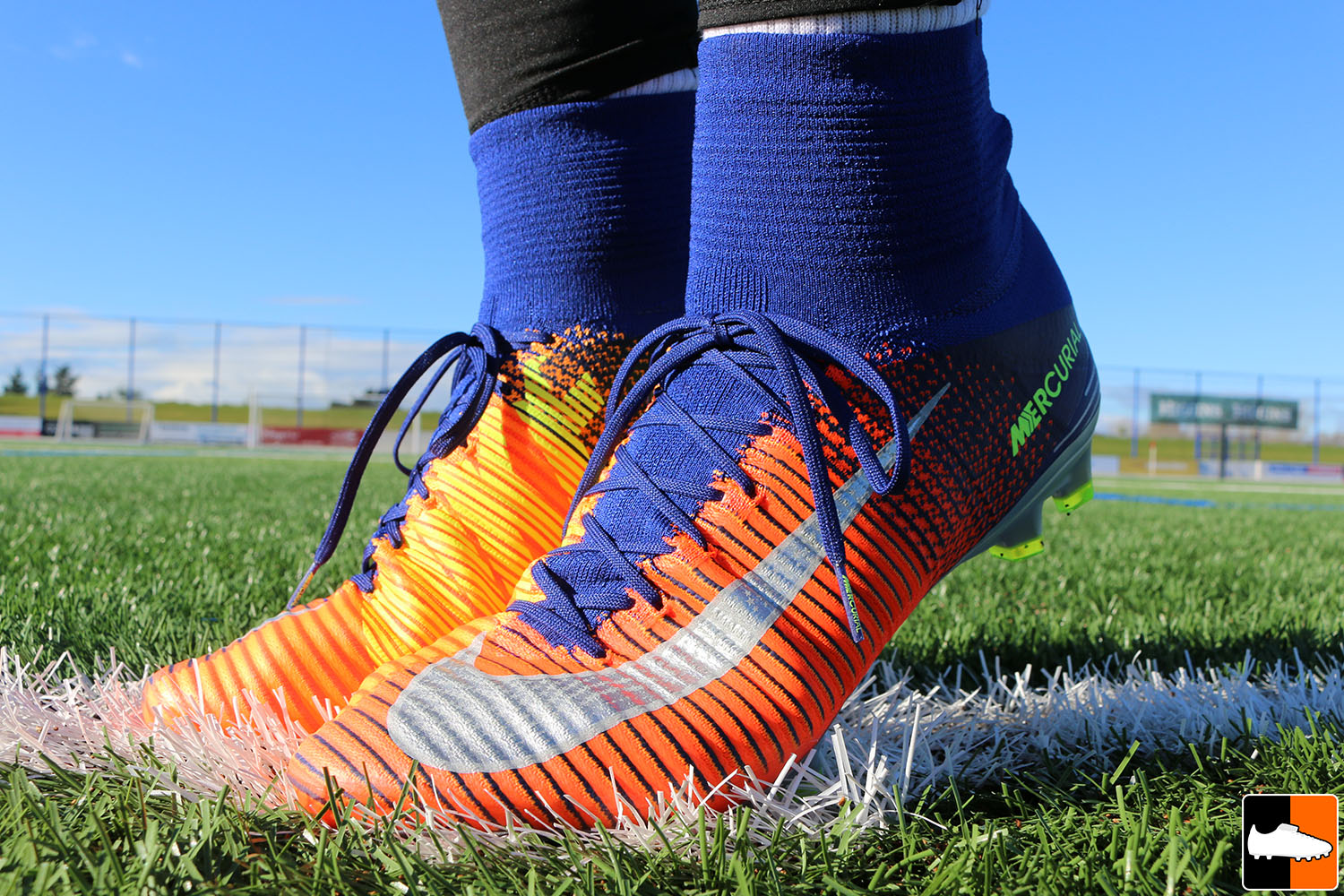 FEATURES:
UPPER: A synthetic knitted construction named 'FlyKnit' makes up the Superfly V upper which in my eyes is better quality than adidas' knitted Purecontrol & Primeknit materials. FlyKnit is supple, soft and most of all thin providing a barefoot touch on the ball and compressed fit in the midfoot and ankle ticking boxes in terms of lockdown, comfort and touch.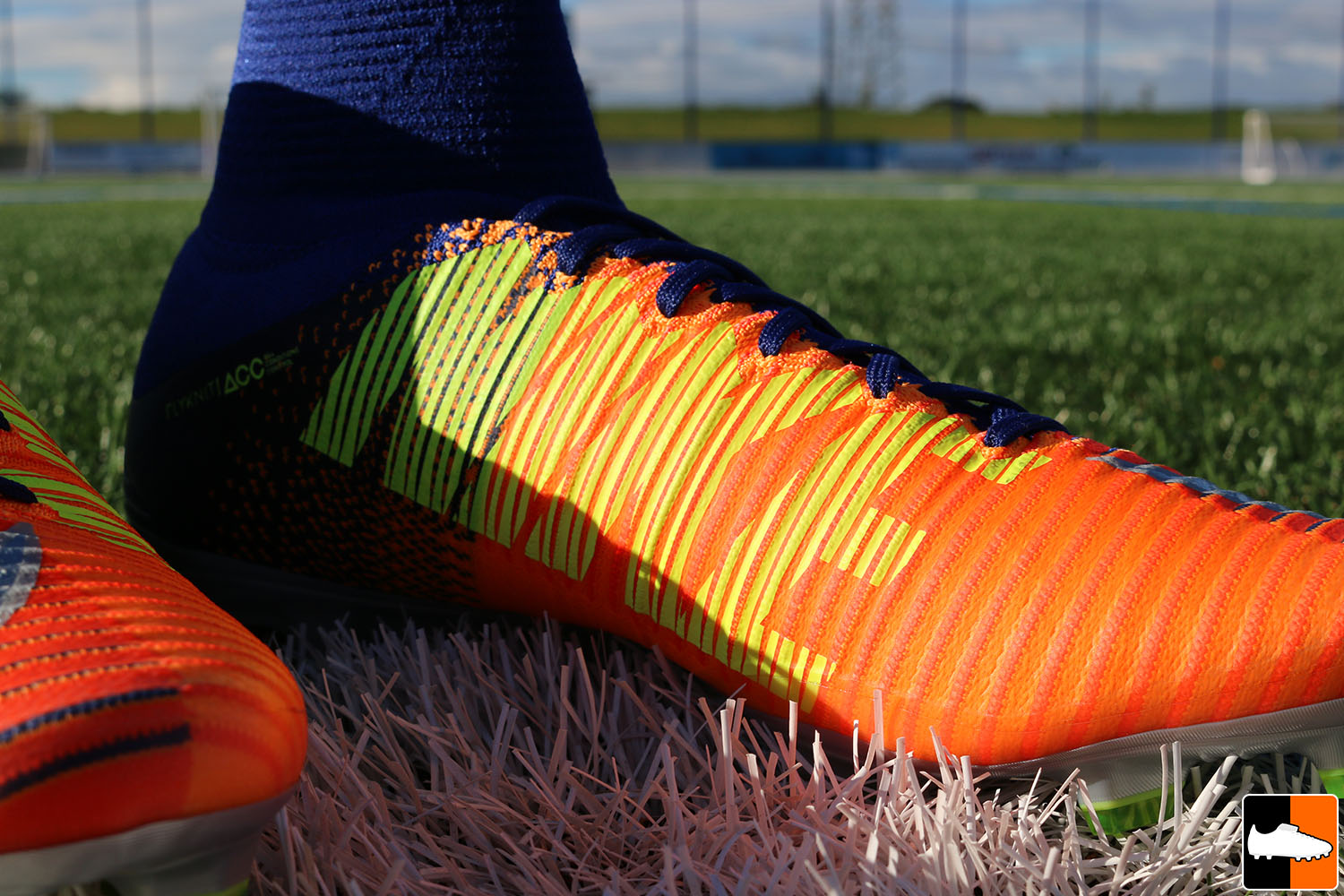 SPEED RIBS: The second biggest change from the Superfly IV is the 'speed rib' construction. Straight away you will think they have something to do with locking down your foot into the shoe but you would be wrong, the speed ribs are made of additional FlyKnit and are designed to increase friction between the boot and ball with the ribs being denser of the medial side compared to the lateral. When striking a ball with power you will notice the added thickness and protection you receive compared to the Superfly IV. Is that a good or bad thing? Again I'd probably prefer the touch of the IV over the V but again it's all about personal preference with thickness of upper.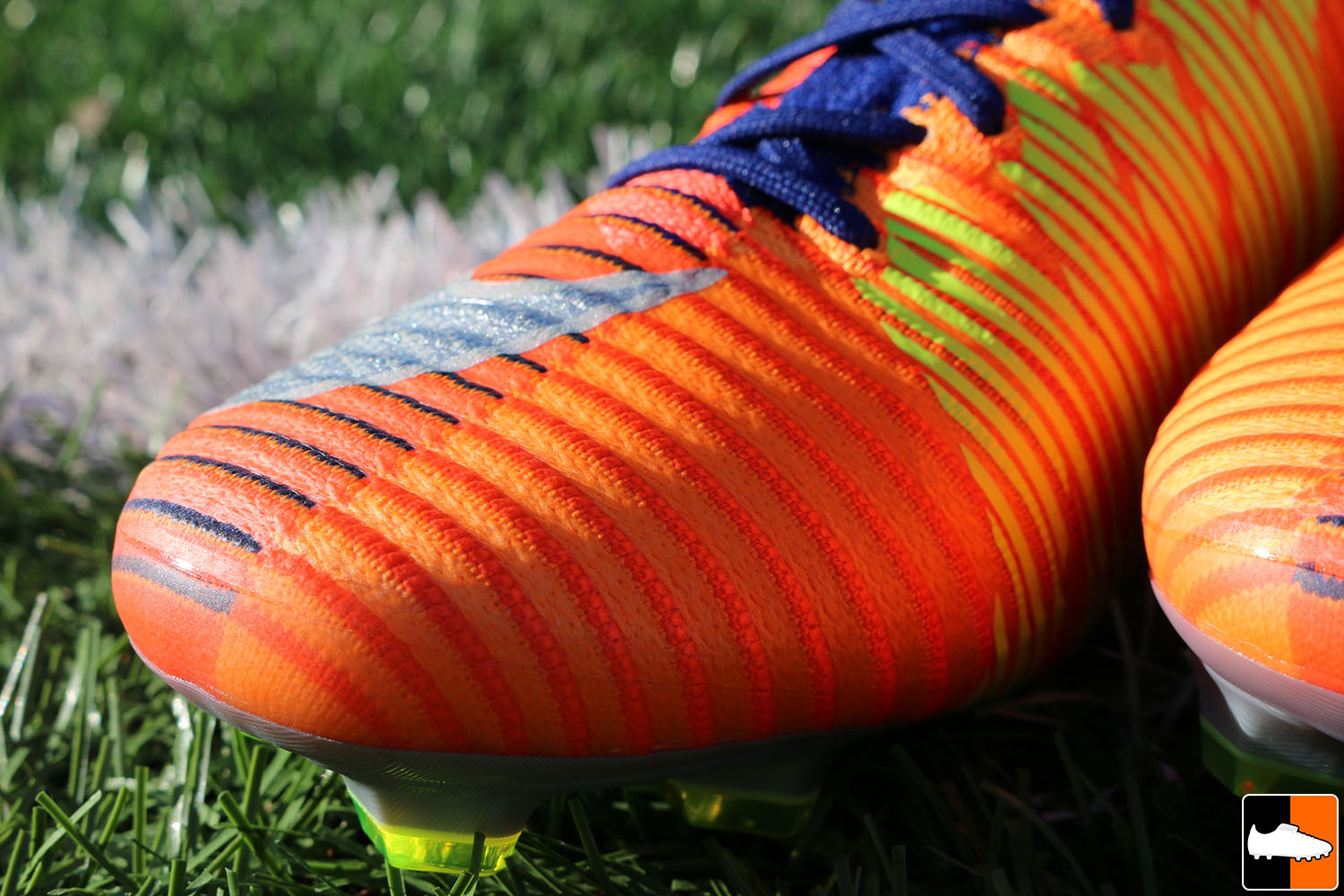 TEXTURES/ACC: If you want a comfortable, cushioned and supple touch on the ball from the Superfly V then you have simply chosen the wrong boot. As mentioned earlier the Superfly V will offer a very thin and barefoot touch on the ball. The texture of the Nikeskin (the thin transparent layer on top of FlyKnit) is quite smooth to the touch and that does translate to the pitch as you will experience a very silky, smooth, 'PING' feel when striking the ball. The inclusion of ACC (All Conditions Control) may help grip in wet conditions but again I'm not overly convinced by that particular piece of tech.
DYNAMIC FIT COLLAR: A feature debuted on Nike's elite boots back in 2014 with the Magista Obra and Superfly IV the Dynamic Fit Collar has had mixed feedback between professionals and amateurs alike. Spanning up the leg it completely covers the ankle for a 'sock-like' fit and feel. Working with the FlyKnit upper it enhances that feeling of being locked into the shoe for increased lockdown and a slight improvement in responsiveness. Is this a feature vital to a boot? Most likely not but a feature every kid on the block wants to try at least once.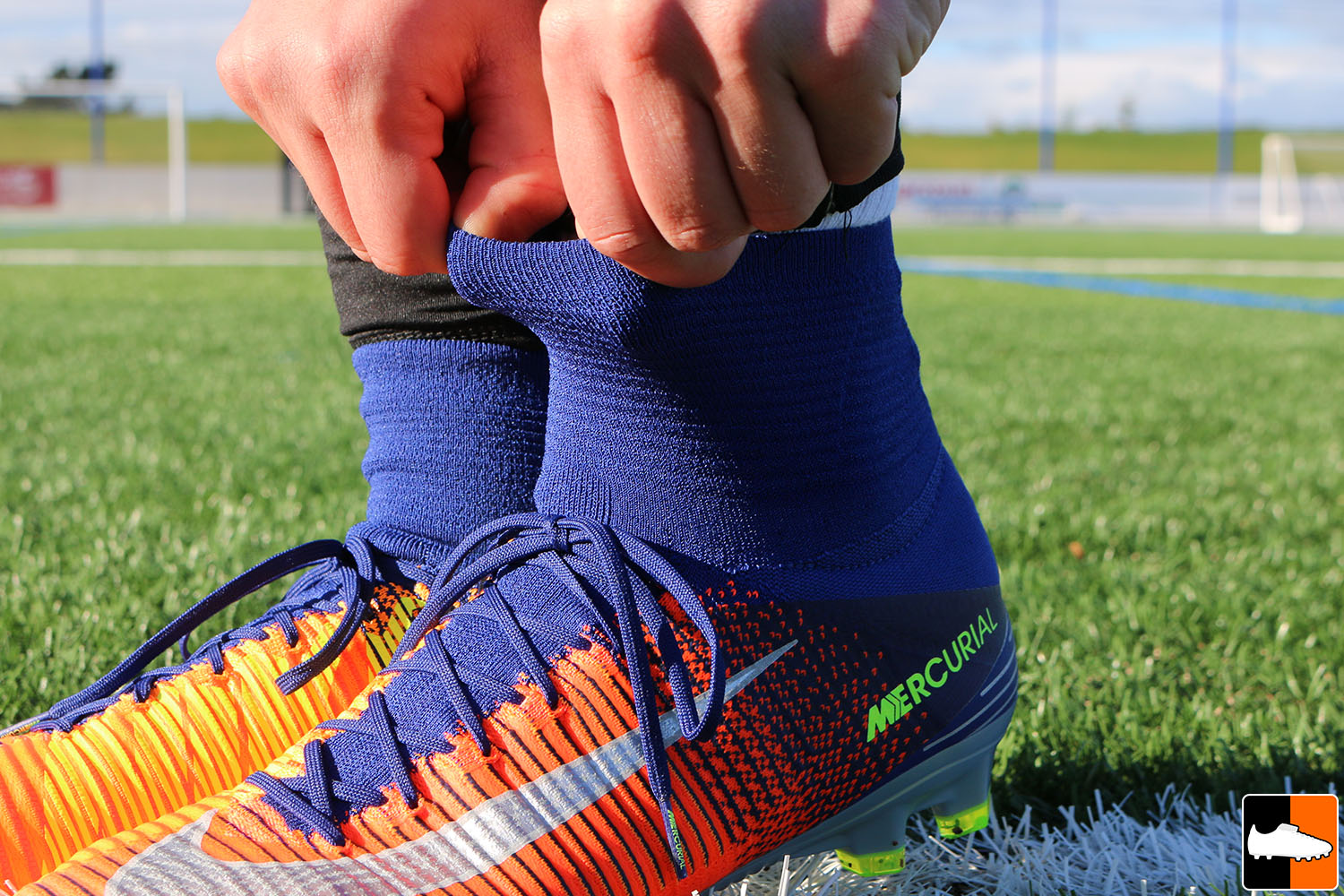 FLYWIRE/LACING: FlyWire cables has been around for years and it still plays an important role in Nike's Superfly, Obra and Hypervenom silos. Connecting the laces to the soleplate this which has been proven by Nike is the best way to enhance responsiveness and lockdown. Considering the last of the Superfly is narrow this will further increase the lockdown experienced with the Superfly. FlyWire is a blast from the past but one of few features to remain on modern day football boots.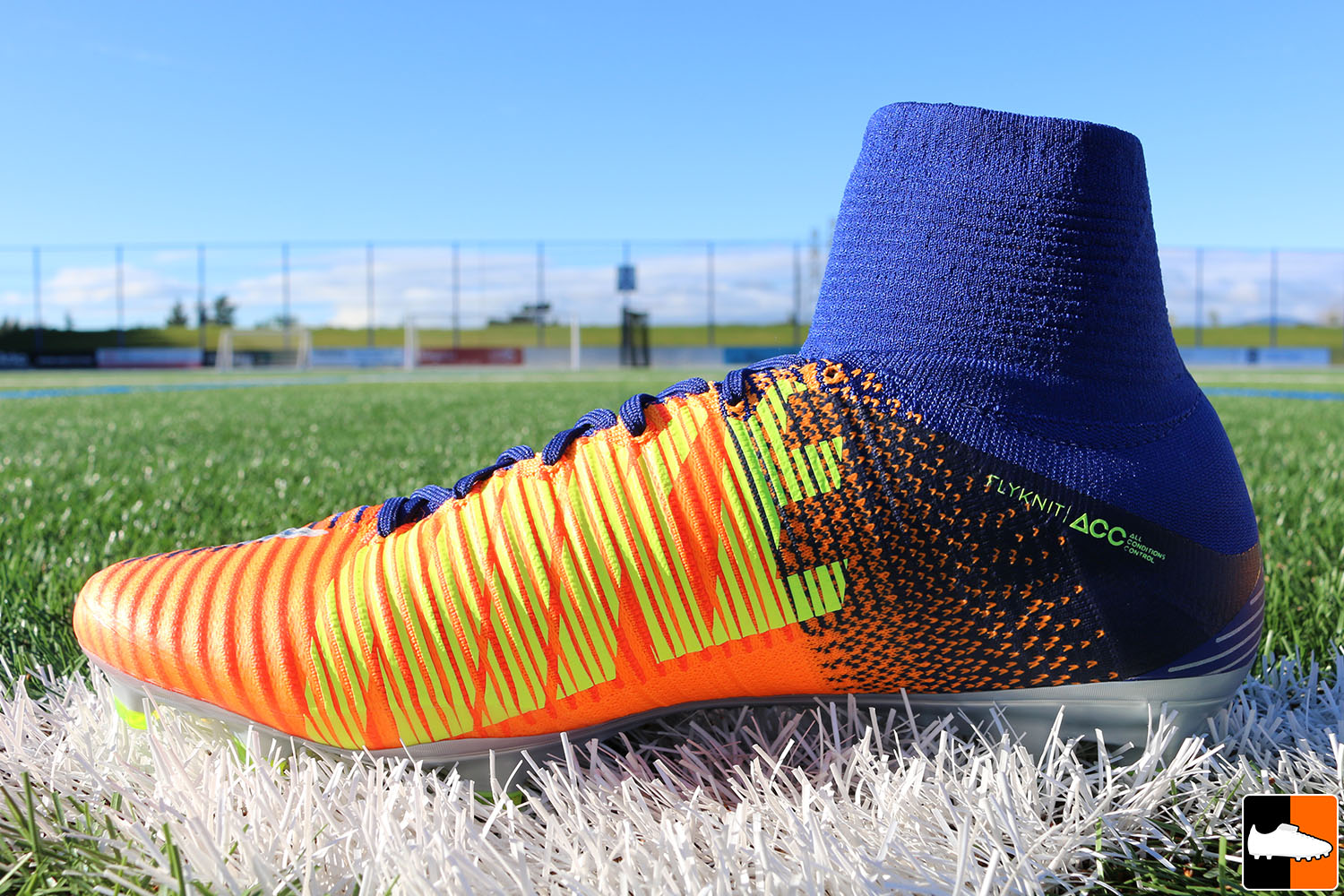 SOLEPLATE/STUDS: The biggest improvement from the Superfly IV is the soleplate and this is in my eyes is the feature which makes it better than that generation. No longer do we see the highly popular carbon fibre chassis but an all new lightweight nylon chassis which mirrors your natural foot shape which again will in thus enhance responsiveness and lockdown. This is a feature I can see lasting the distance so expect to see this contoured chassis around for many years to come. Spot on from the Big Swoosh.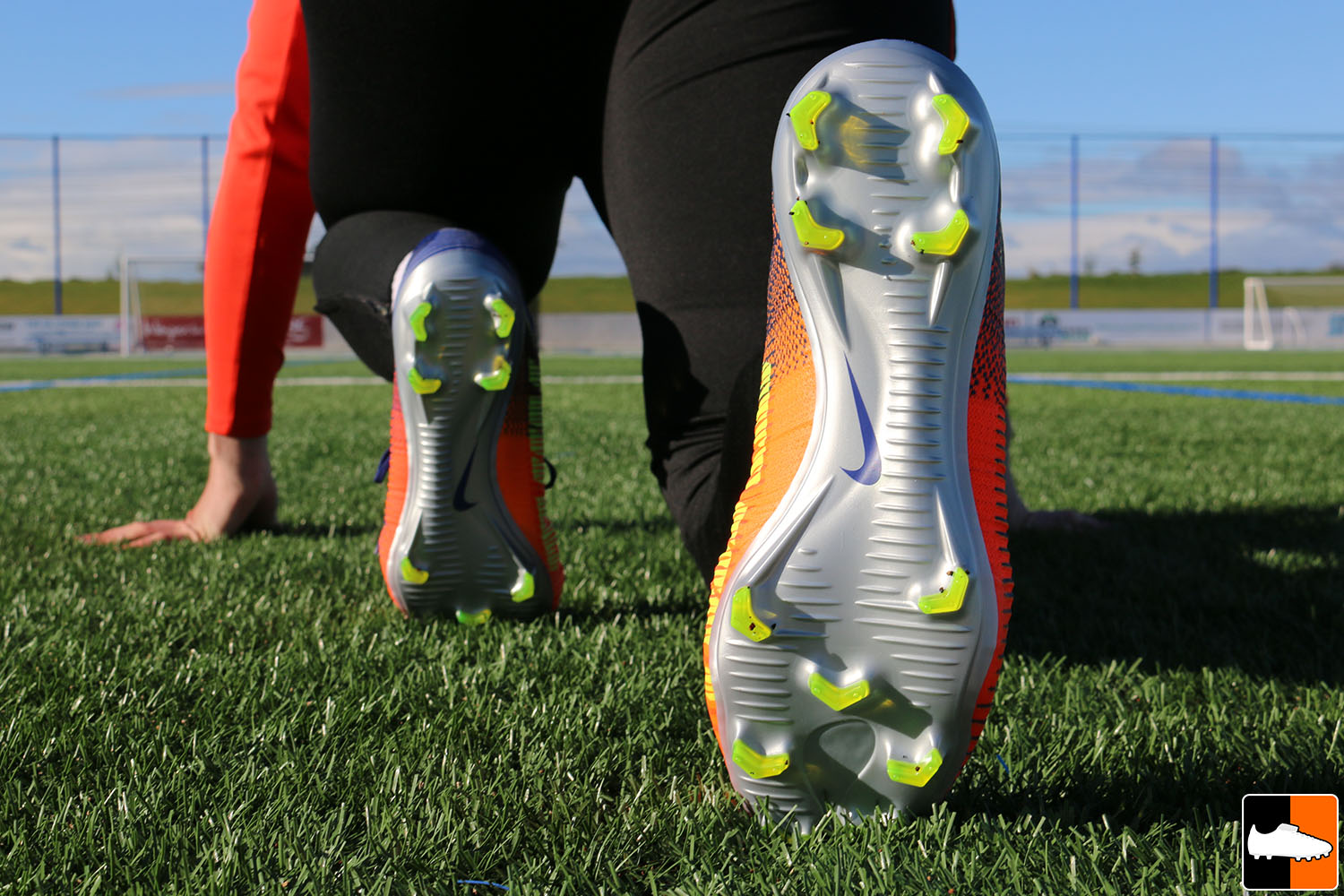 WEIGHT: 191 grams/6.7 oz is the official weight of the Superfly V which in my eyes can still be regarded as a 'speed' boot. It's certainly lighter than the Superfly IV but it's not the lightest on the market. The difference between a 300 gram boot and a 150 gram boot is obvious but considering most boots on the market range between 175-230 grams the weight of this silo is not a problem at all.
DURABILITY: A Nike product always lasts the distance. Again like any boot if you wear this on the wrong surface then you more than likely will experience problems with sole separation. Wear this on grass surfaces and the odd artificial surface and it should last you at least one season if not more.
VALUE: Modern day football boots are overpriced in general but in saying that the Superfly V is a good 'value for money' option. At £250 you can get a Superfly V which in most eyes is too much for a pair of football boots but if price tag is not a problem for you then you should definitely consider the Superfly V.
VERDICT: The three factors customers use when buying a pair of football boots is fit, looks and price. Narrow or wide, the fit will be compressive and responsive for every foot type and the high quality FlyKnit upper creates a super comfortable playing experience for a synthetic product. Looks wise it's simple and comes down to personal preference, if you have had Mercurials in the past then this colourway should definitely float your boat and if not then just avoid this boot completely. Price wise, you are paying the premium for this silo so I'd wait a few months to get this boot at a discounted price if you were mad keen on the colourway. Overall a high quality, responsive, lightweight and durable product from Nike ticking more boxes than most, a definite winner in my eyes.
Strengths: Responsive, Barefoot Touch & Lightweight.
Weaknesses: Lack of Protection, Narrow Fitting & Overpriced.
Style: A bold 'centre of attention' boot that's targeted for attacking players who want to score lots of goals and not go in their own half to defend.
Key Players: Cristiano Ronaldo, Alexis Sanchez & Paulo Dybala.
Trivia: The soleplate of the Superfly V is 40% lighter than the carbon fibre chassis used on the Superfly IV.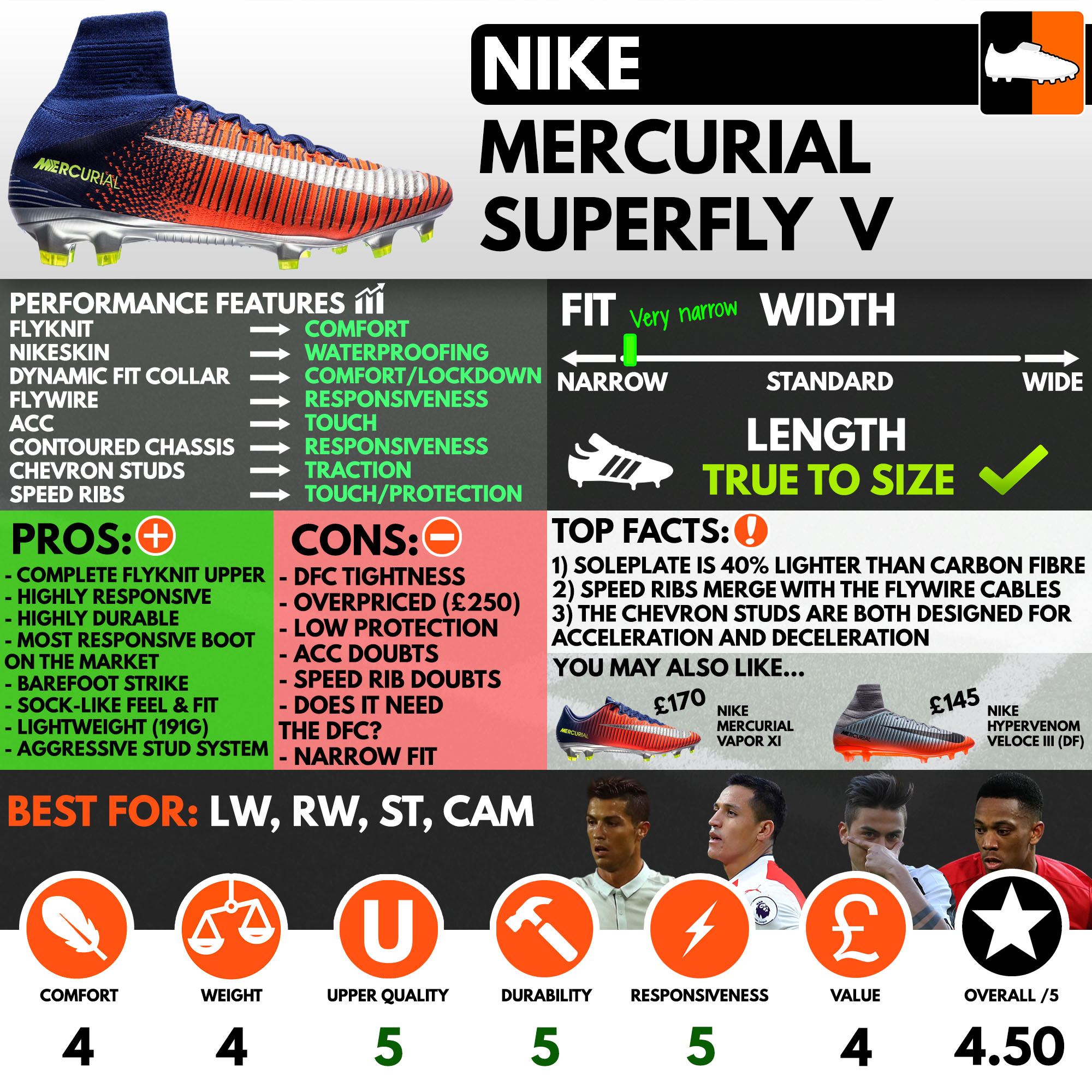 #review #time_to_shine
Posted on June 10, 2017 Blake