Nike 'Time To Shine' Pack
What's up guys Matt and Blake from the Football Boots Team and today Nike have managed to release one more pack for the 2016/17 season and trust me it's incredibly bold, it's called the Elite Champions Pack and in my opinion I think it's one of the most flash collections I've seen by Nike in the last few years. So what we're gonna be doing today is checking out each boot and see what it has to offer but lets get right into the video. So the Elite Champions Pack is all about adding blues, oranges and silvers on to each individual Nike boot but it's also some really special star and silver detailing. So Blake take it away with the first one.
So Magista Obra II, this is probably the most basic one in the collection, it's pretty much all navy blue. It's got a bit of silver detailing on the the Swoosh logos and on the sole plate and that volt trim on the Swoosh logo and on the stud tips, with a bit of orange on the stud tips as well. Matty what do you think?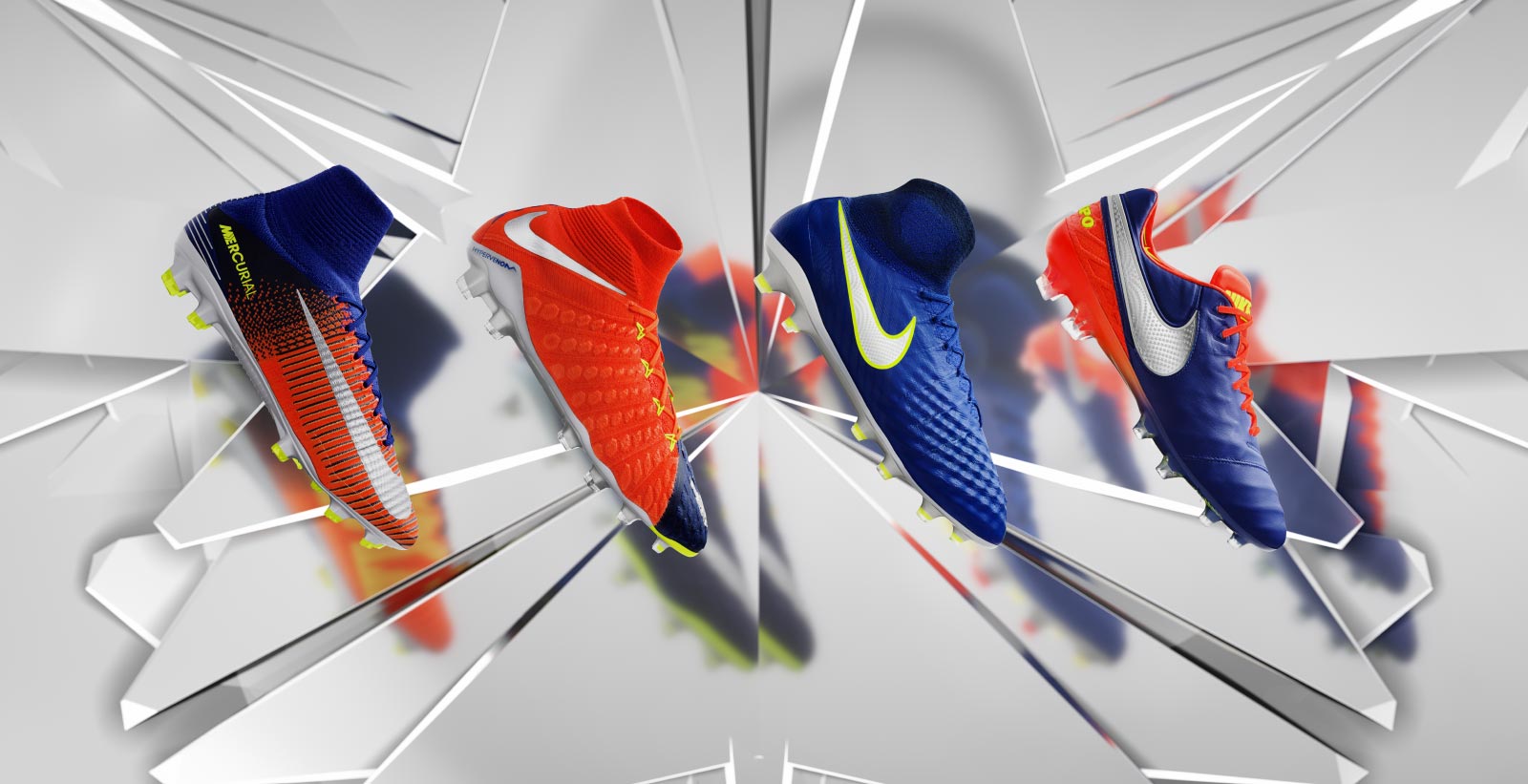 Now what I'm gonna start with is gonna be by saying that I'm not actually the biggest fan of this pack overall but do watch each one to see which one is your favourite because I do have a favourite in the pack. But that Magista Obra II has that dark blue base coat all across the boot which I don't actually mind too much because it is just one colour base coat which I think is the key. It's not too much going on. You can't really see the dimples because it is just that one tone and of course we do have that silver Swoosh which has some star detailing.
Yes, the one thing you see on this Magista Obra II is that the heat map design is not on this boot and that already for me is a winner.
So we just talked about the mid-cut Obra II so let's talk about the much more popular low-cut Magista Opus II. Now what we looking at here?
So it's virtually the same design, that same navy blue and silver design with a bit of volt on the studs and on the Swoosh borders. Overall I probably prefer this one over the Obra. What about you Matty?
Do you know what, I think I prefer the Obra, take away the colour but what I do like so much about the Opus II now is that Nike actually changed it. So thumbs up there Nike, I see a lot of pros and also amateurs out there who were wearing the Opus II with that exposed dimple upper, they didn't like it, they got the feedback and they changed it, so big thumbs up, 'cause now I think it's very comfortable and also a pretty good boot. But that's the Magista wrapped up, so let's move on to the next silo. So up next is probably my own personal favourite boot of the Elite Champions Pack, and that is the Tiempo Legend VI and it might be one of the final Legend VI we see before upgrading to the VII so what are we looking at?
So we're looking at a mostly navy design, a bit of orange on the bottom of that sole plate there on the heel counter, Swoosh logo is all silver. I definitely like that touch, and volt yellow on the Tiempo and Nike Swooshes on the sole plate. Matty, what do you think?
Do you know what, I actually do like this design. I love orange on football boots and when I think about blue and orange boots, I think about Puma when they do their tricks, I think they do really well and I think in this situation with Nike, I think they've done well as well. Now when we're talking about the Legend VI going to the Legend VII it's gonna be a lot more different materials next up in the Legend VII. So far the Legend VI is quite leather infused, across the majority of the boot apart from that heel counter. By next time around in the Legend VII coming up we might even see some fly net. So here we go within my opinion, the most technology advanced boot I have ever seen on the market and that is the Hypervenom Phantom 3 DF. Now what's the actual design of that and also the technology?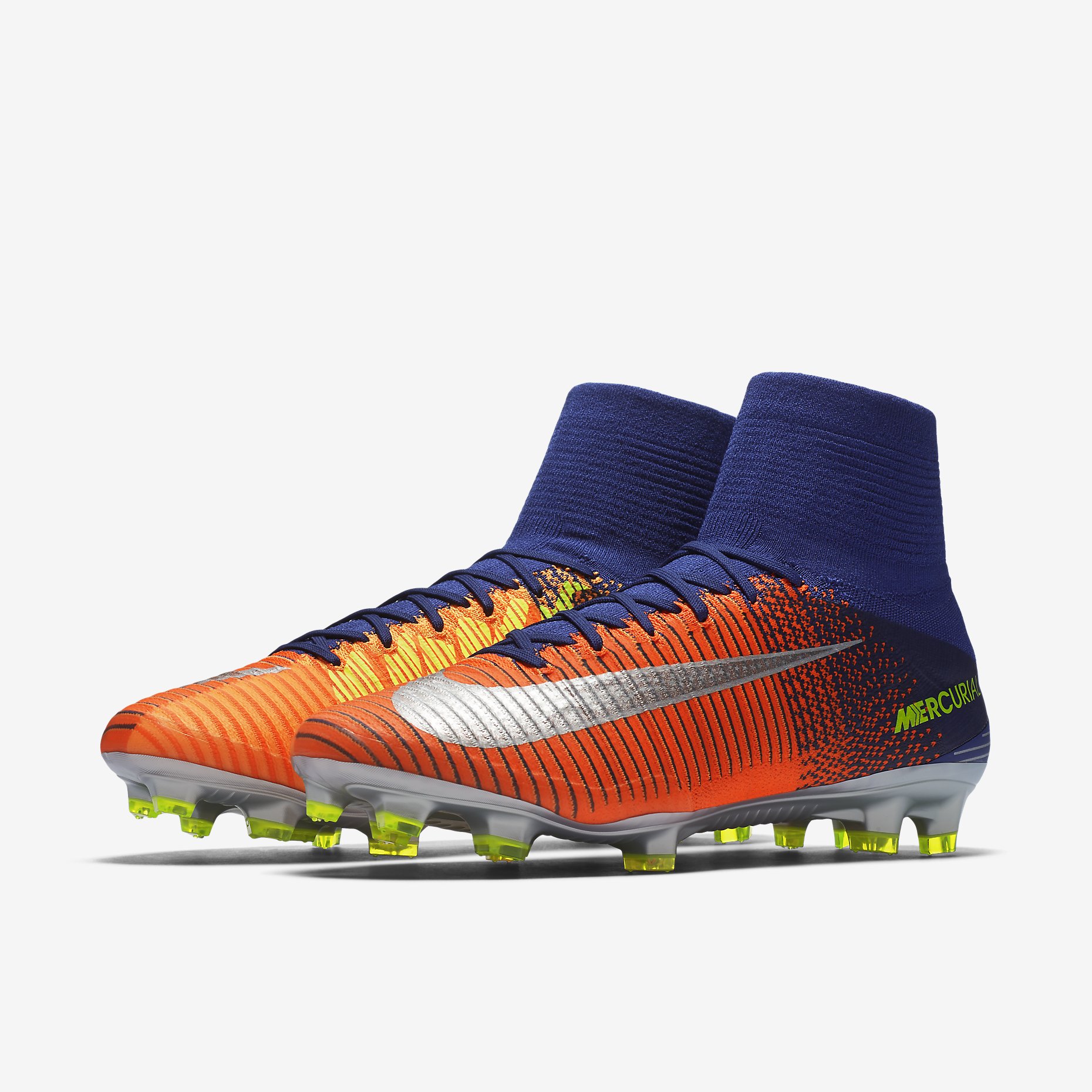 star pattern, you'll see that star pattern on all the sock liners in the Elite Champions Pack and a bit more volt yellow on that sort of forefoot there. Matty what do you think?
Do you know what, I love the Hyvenom silo, I think for me it's my favourite silo of the Nike collection of all, but this colorway, nah it's a big no-no for me. I just don't like the design with that diagonal half and half, I think Nike really ruined it because the Strike Night pack which was all black with a little bit of red and silver, I thought that looked incredible and I think with that kind of design that structure, of just the one base coat with a couple of added extras you could create some really nice designs out there but I think the navy blue and orange this time around it's just a little bit too much going on but I can appreciate that star detailing, I think that's a really nice touch on the Elite Champions pack. So mid-cut to low-cut we now have the Hypervenom Phantom 3 Low and obviously this is the boot that Harry Kane wore all season scoring 29 goals, what a season that guy had and he had like 3 months out through injury as well so without that he could have even broken the 30 goal mark,` which it would have been an incredible achievement, great season from Harry Kane, but what's the boot looking like?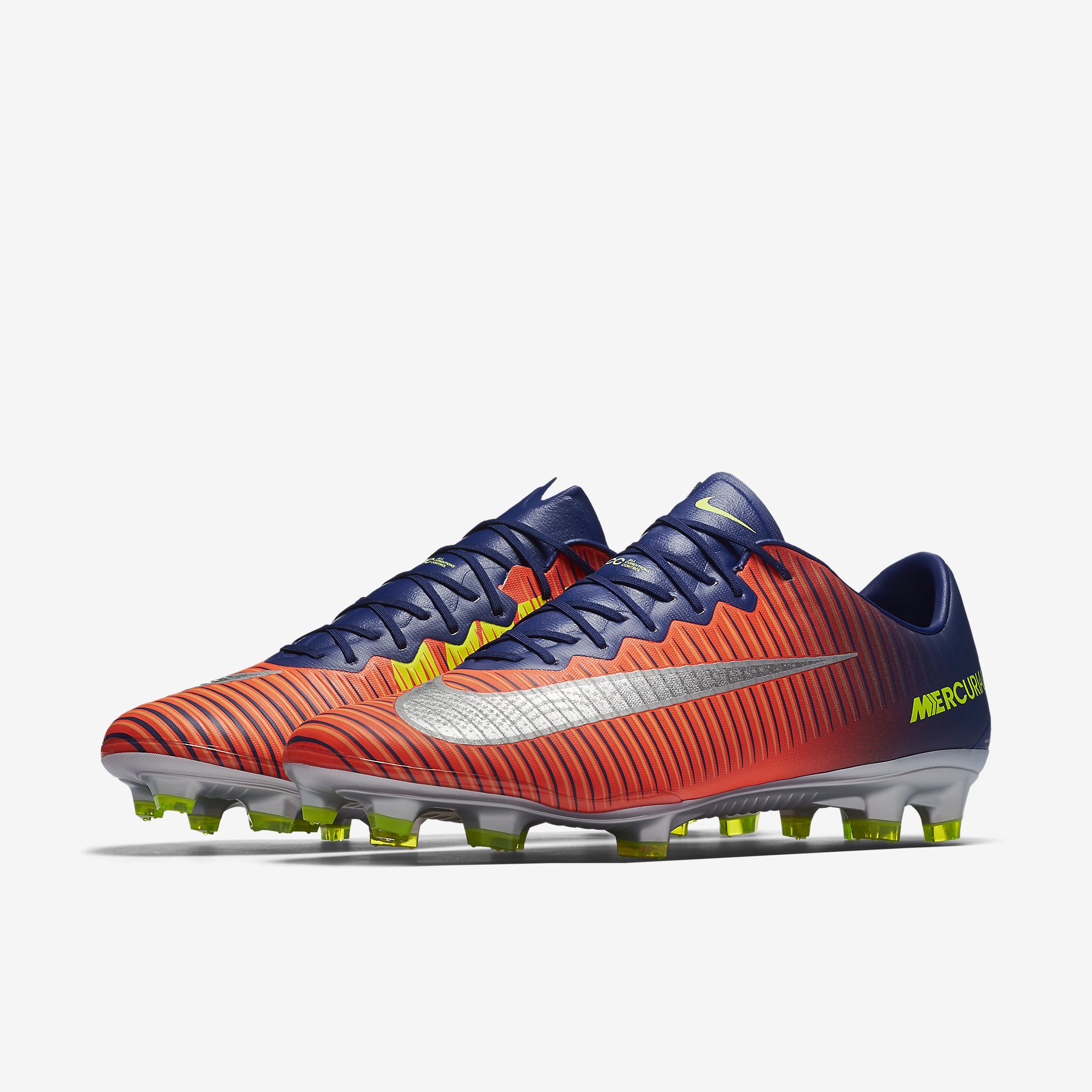 So it's pretty much the same as the Phantom 3, take out the DF, the Phantom 3 collar and you've got a low-cut design, is it the best boot on the market Matty?
I think it actually is the best boot on the market. I think it's so comfortable wearing these. Comfort is brilliant but also the enhancements to performance are actually really strong as well. So I think it's really classy and it's a little bit of a shame that there's not gonna be many players actually wearing these because the season is now finished, so obviously by the time you see them again next season, this colorway will be all gone and Nike would have released a new one. So here we go with the ridiculously popular Mercurial Superfly V. Now this specific boot has been out for a while but in this Elite Champions pack it's something completely different, brand new happening on this boot. Now actually what is that?
So the first thing you'll notice is that brand new Nike logo on the medial, so big, bold Nike logo. Nike team changed the design teamplates mid-generation and have done with this the Superfly, so big Nike logo on the medial in volt yellow. The rest of the boot has a navy and orange design with chrome and silver on the sole plate there, really nice and on the Swoosh logo. Matty, would you wear it?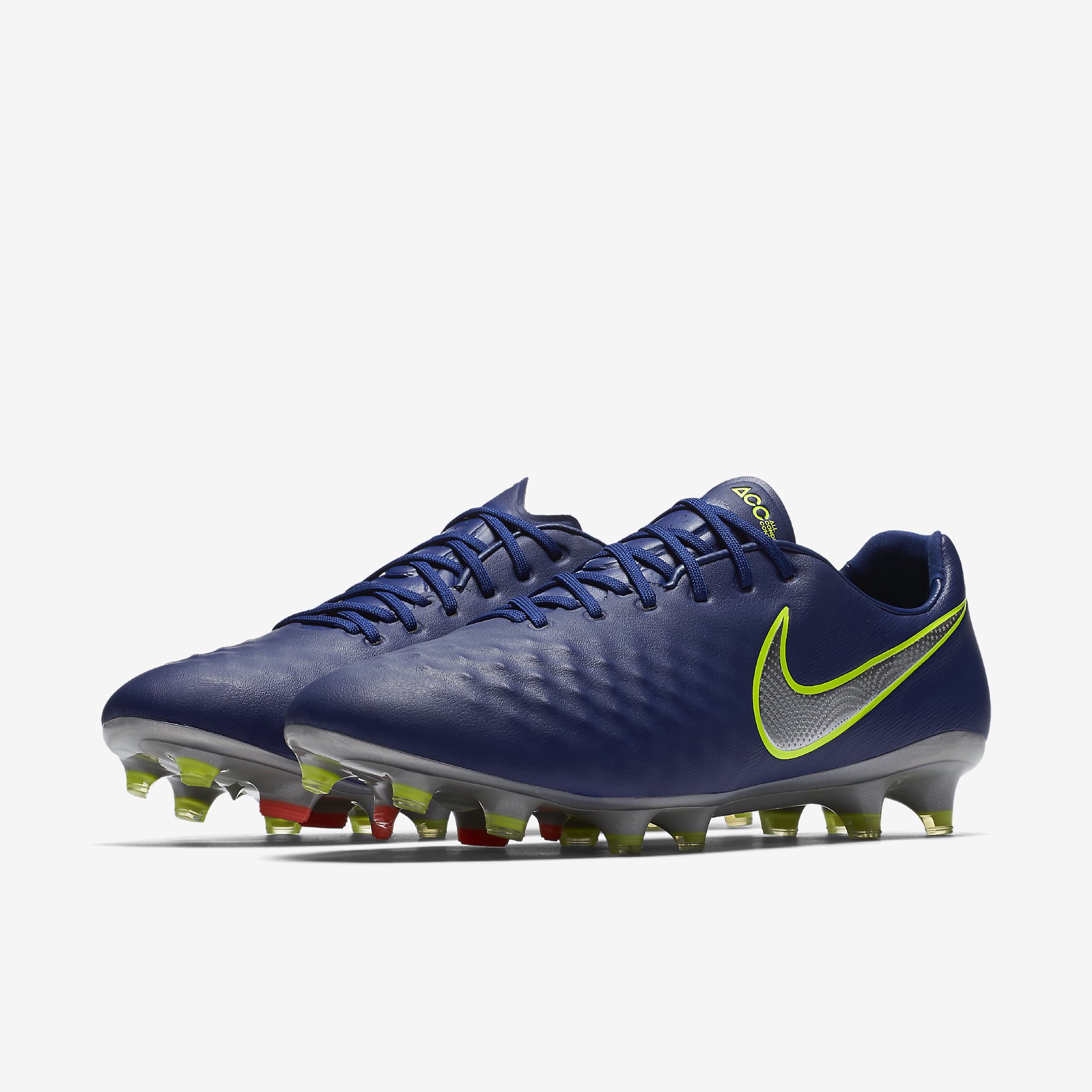 I wouldn't wear this Superfly V and I wouldn't wear this actual colorway, so it's probably a cross for me on this one. But what I don't really understand is that given that Nike stamp on the medial of the boot, which is quite retro. Now I do like a vintage touch and I think it definitely has that but I just think it's too busy again. And obviously it comes with that different colorway on top of that upper as well, so I think it's just a little bit too busy but I do like the retro touch.
It does remind me a lot of the Vapour IX, remember the Vapour IX had that Nike logo on the instep, pretty much on the heel to the mid-foot. That's sort of what it's reminiscent of isn't it? And also one last thing on the Swoosh logos themselves, they've actually got a star pattern, that's quite a nice touch to this colorway.
So we've just had the Superfly V and now we've got the Vapour XI, and although they're both Mercurial models they are incredibly different. So what are the differences between each boot and also what ones you prefer?
So I think the main difference is the high-cut and low-cut design. The Superfly has the collar so it's got that mid-cut design and the Vapour has a traditional low-cut design. That for me does it, I'd go for the Vapour just on that reason. But the Vapour has a really nice synthetic upper, that's the main difference, the upper on the Superfly. In terms of design, the main change is that the Vapour actually has a bit more of a print. So it's gonna be a bit bolder on the Vapour than on the Superfly. Which one would you go for.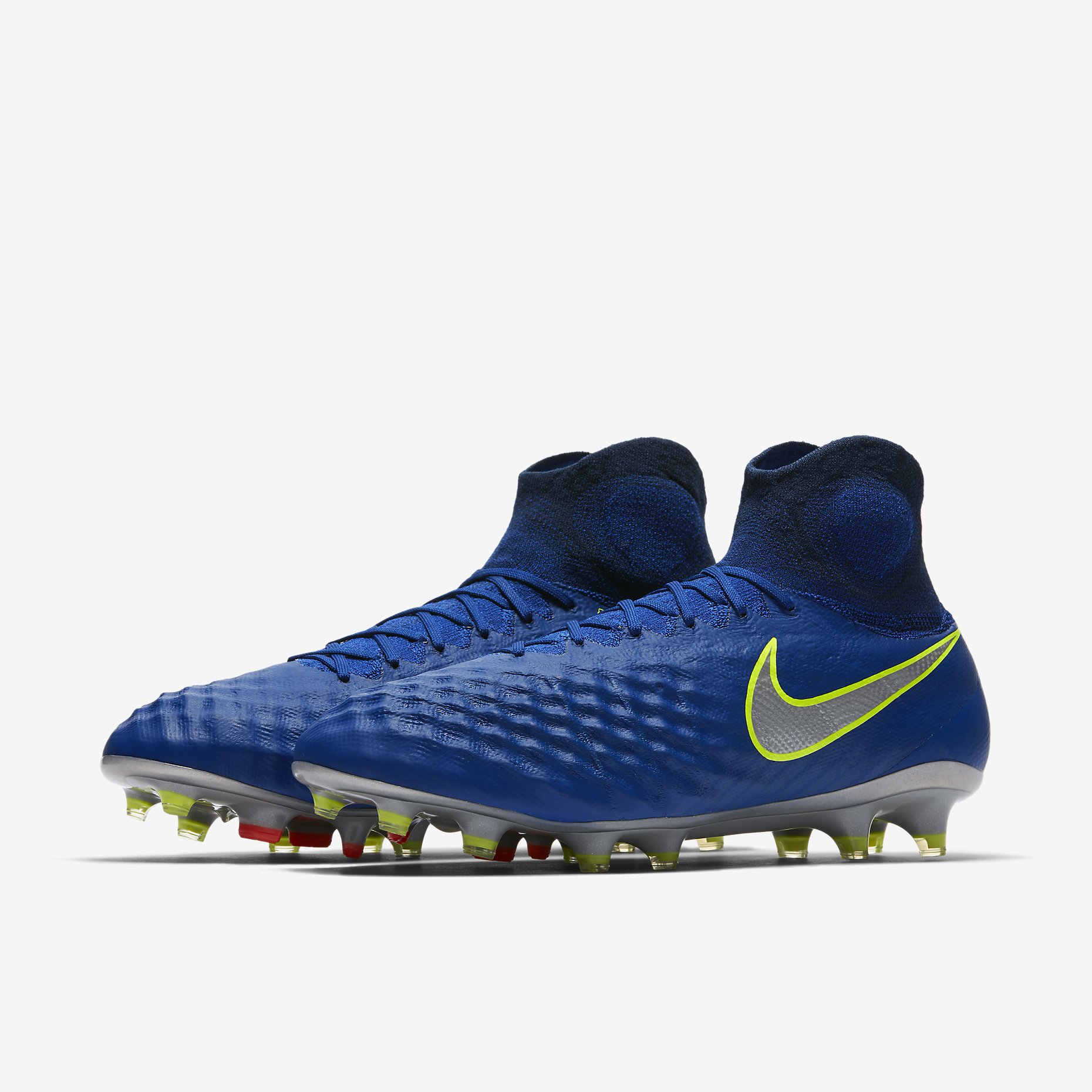 I'll go for the Superfly but hopefully in the Superfly VI they actually make the collar a little bit shorter. I think that's what's gonna happen from what we've seen with players in training and blackout boots. They are gonna make that collar a little bit shorter but obviously there's another special thing about these Elite Champions pack boots which we're gonna get into now. So guys, as you can see from the picture, something special is happening with these boots. Blake, what is it?
So on all silos the Swoosh logos are reflectors so with a camera flash or in a night game, a floodlit game, the Swoosh logos will light up. I think that's a really nice touch. You've got this star pattern, you've also got reflective Swoosh logos, really really nice touch. Matty?
So that pretty much wraps up the entire video for the Elite Champions pack. Me myself personally, I'm going with the Tiempo Legend VI as my favourite, what about you? The Vapour. But what about you guys? Vote in the poll card now for your own personal favourite and in the comment section below let us know what you think about the collection as well. Is it one for you, is it a cop or is it a drop but guys, that's the video so thanks for watching as always.
We'll see you next time.
#nike #time to shine
Posted on June 09, 2017 Matt