Adidas X 16.1 – Turbocharge Pack – Review
So when we talk about the width of the X 16.1, it's actually quite unique. Most speed boots on the market are quite narrow fitting. But the X 16.1s are actually a little bit wider than you'd actually expect. So wide-fitting players who want a speed boot, these can be a great option for you.
A nice positive about these boots, are they do fit true to size. So if you've worn any other Adidas boots on the market, go for that size and there are gonna fit you perfectly.
So when we're looking at the upper of the X 16.1, and we can see it's got that slash graphic also seen on the Purechaos. But different to the Purechaos, is it's much stiffer, and also thicker compared to that premium model. These are still an elite-tier boot, but for me personally, I just wish the upper was a little bit thinner.
So, one of the biggest features of the X 16.1 is that Techfit collar. We can see it raises in the front and the back of the boot. Does it make that much difference? Not really. I actually prefer the ACE 17.1 Primeknit, where it goes across the entire around the ankle. And also it's a little bit more elasticated.
So the X 16.1 by Adidas is a speed boot. It weighs in at about 213 grammes, depending on which size you get. But it doesn't challenge the likes of Nike's Mercurial, or also Puma's Evospeed.
As with all of Adidas' elite-level boots, it comes with a Sprintframe sole-plate. We can just see that it has that dual stiffener bar in the mid-foot. So that's where all this stiffness is for responsiveness. But it does become a little bit more flexible around that toe box.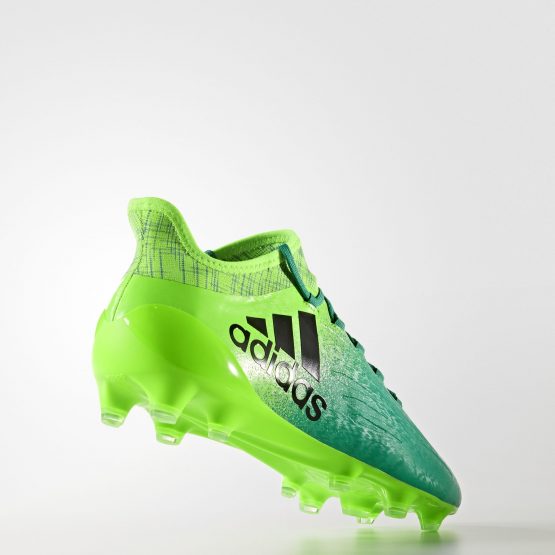 So, design and color-wise of the Turbocharge X, and what we can see is two type of green, which gradient at the mid-portion here. We've got solar green at the back and core green at the front. As I said, it's all about that gradient effect on the side panels. Overall, it's not one that I'd personally like, but I can see a lot of guys out there appreciating it.
So which players on the world stage can we be seeing wearing these Turbocharge X? Well let's go to the Real Madrid squad, we've got Gareth Bale, and also Karim Benzema wearing these very flash boots, but with those white socks, I think these are gonna look super sharp.
So why does Luis Suarez actually wear this 16.1, to the Purechaos? Well I think the main reason is external laces. Now what you can do on the Purechaos is tie them at the top, but it's not the same. What you're supposed to do, is actually tie the laces and tuck 'em into that Purecut cover. But Suarez obviously does like them exposed, just like Messi does on the 16.1.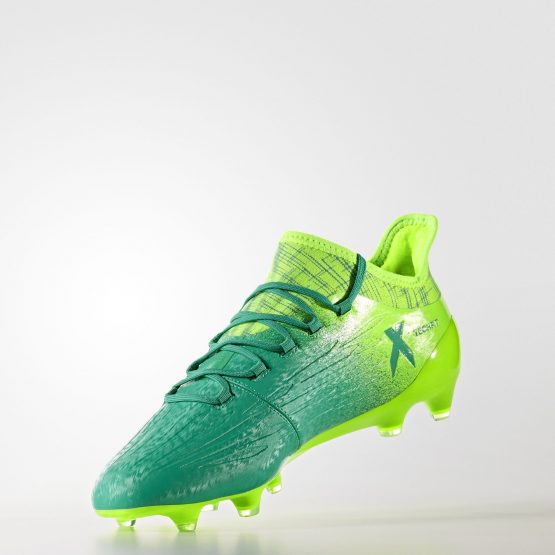 The one big shame for any players out there, is the 16.1 in the X range just isn't as good quality as the Purechaos. So if you guys want a speed boot, but not the X16.1, you can go for the very popular Mercurial 11, the New Balance Furon 2.0, or the Velocita Pro.
Now, which one would I personally go for? I think I'd go for the Vapour 11, but then also the X 16.1 is another good option, but these are all pretty good speed boots out there, and these are probably your best picks on the market.
Now looking at the Adidas timeline, it's probably about time that they do actually upgrade to the X 17.1, which will be a massive boot for sure. Very popular on the world stage. But at the moment, I think these are pretty solid, and I can't wait for the next generation.
So we've already spoken about the X 16.1, it's actually a pretty good option for players with wide feet, who want that speed boot. Again, they're gonna be very comfortable. So talking about a speed boot, they're usually quite narrow fitted, and also can be a little bit uncomfortable. But that is not the case with the X 16.1 at all. They're quite wide-fitted, and also comfort is pretty high.
#adidas #review
Posted on May 03, 2017 Matt