Nike Magista Obra Boot Test & Review – Anti Clog 'Black/Volt'
Already posing as a masterfully crafted control-themed boot, Nike's Magista Obra underwent the brand's latest and revolutionary Anti Clog treatment to ensure a stable platform for high level performance. Here's how the Magista Obra Anti Clog performed in a full test and review.
With Nike's innovative Anti Clog concept becoming a reality at the back-end of the 2015/16 season, the special edition Magista Obra with its mud repellent ability was designed to offer enhanced traction in wet and muddy conditions compared to its original model – so how does Nike's intelligent creation compare to its standard counterpart, let's find out!
FIRST IMPRESSIONS/COMFORT: Apart from being interested and excited about the actual Anti Clog technology and how it worked and performed, the Magista Obra boots within the collection also featured a stunning Black/Volt colour-way with additional pearlescent effects. Having the boots in hand for the first time and the modified sole plate definitely had a different feel to it, perhaps possessing a slightly grippy and sticky characteristic which became lubricated when wet.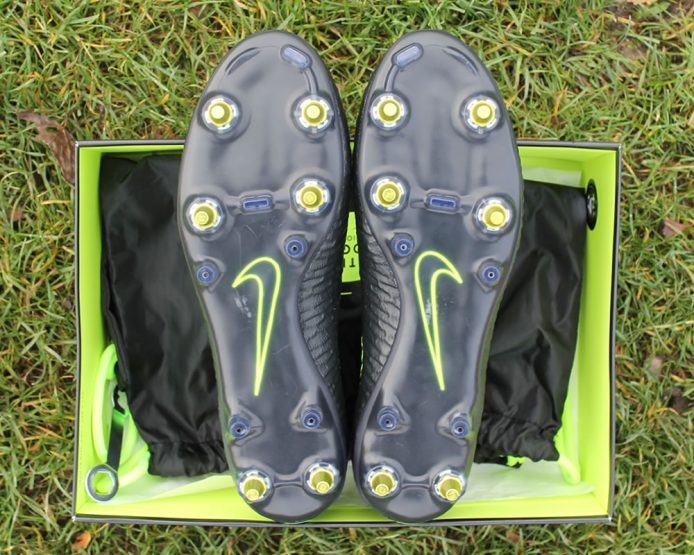 SIZING/FIT: The sizing of the Anti Clog Magista Obra boots are exactly the same as its standard model, fitting true to size, and can also be worn by most player foot types due its fairly universal last. The one difference between the Anti Clog and standard Obra is the upper has been modified into more of a glossy leather composition instead of its matte finish NikeSkin which promotes a slightly more premium feel.
FEATURES:
ANTI CLOG: So without doubt the most significant factor of the Anti Clog Magista Obra boots is the redesigned sole plate which incorporates a special treatment to reduce the build up of mud through a repellent effect when combined with water. We actually tested the boots against a standard Hypervenom Phantom II on a wet and muddy pitch and the results were pretty impressive as you can see from the above video.
ANTI CLOG CONTINUED: The way the Anti Clog technology actually works is mostly down to the effect the sole plate has when coming into contact with water, Nike even state 'Works Best When Wet' on the box lid. Before starting the test we poured water onto the Anti Clog sole plate and the almost rough feeling material became almost slippery which helps to prevent mud from sticking. During your matches, the best idea would be to wet the sole plate before the game and at half time to optimise effects.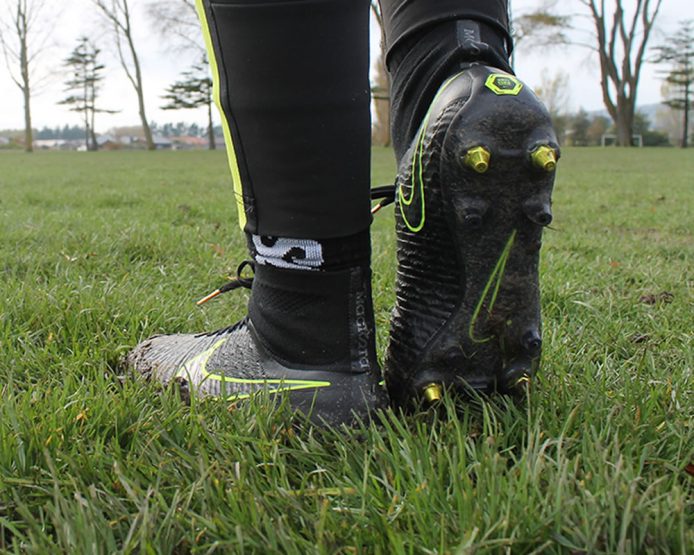 FLYKNIT/NIKESKIN UPPER: As aforementioned, the Anti Clog Magista Obra is constructed from an alternative upper from its standard NikeSkin example which feels more similar to a natural K-Leather than synthetic versions and arguably promotes a more barefoot touch from being overall thinner. As always though, Nike continue to use their Flyknit base layer to create a sock-like fit throughout which continues up the ankle in the form of a Dynamic Fit collar.
DESIGN & COLOURWAY: The Anti Clog design is truly a thing of beauty. A solid and almost glossy Black base-coat wraps the entire boot from heel to toe whilst Nike border their unprecedented pearlescent Swoosh with trademark Volt trim. With Nike stamping the redesigned heel-counter with a bold Anti Clog logo, finishing touches of Volt are used for a final Swoosh upon the Anti Clog sole plate where gold stud tips are also found.
VERDICT: Already being a fan of the first generation Magista Obra, the gained enhancements to traction and performance resulted from the Anti Clog technology takes the boot to all-new levels and also the colour-way is up there with the very best of all time. If you're looking for a control boot with barefoot touch and feel in the Winter months and play on wet/muddy pitches then getting hold of a pair of Anti Clog Obra's could definitely be a wise choice.
Alongside the control-themed Magista Obra, Nike also offer their Anti Clog technology onto the Hypervenom Phantom II and Tiempo Legend VI however the Mercurial Superfly V is left absent due to its layered Nylon chassis not being able to undergo the special treatment.
#anti_clog #nike #review
Posted on August 26, 2016 Matt