Black / Blue Adidas Predator Kinetic SL
The adidas Predator range of boots has largely been re-defined to meet the demands of modern football, now even going a step lighter to tip the scales at a mere 211 g.
This super-lightweight 'power' boot is 24 g lighter than the adiPower and just 1 g heavier than the Superfly III, whilst being combined with the traditional power of the adidas Predator.

In fact, we have a modification from an aggressive silicon rubber adiPower Predator Element to a synthetic Kinetic SL Predator Zone, with adidas' revolutionary SprintSkin upper material (first introduced in the F50 adiZero) helping to drastically reduce weight while fully adapting to the shape of your foot.
Despite being designed with speed in mind, the adidas Predator Kinetic SL also involves the Predator PowerSpine that ensures the achievement of as much shot power from the player as possible.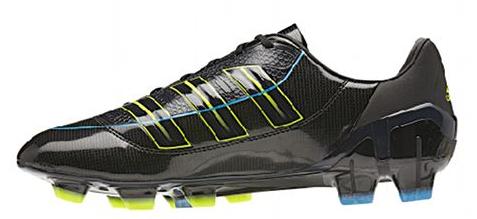 The adidas Predator Kinetic SL, shown at the end of June, has an October release date (coinciding with the start of the next season), being expected to retail at £ 210.

#adidas
Posted on June 27, 2011 Justin