Olympian Blue / White / Ebony Puma V1.10 II
Puma have added this new colourway to their vast array of v1.10 football boots.
This boot is engineered using a combination of a microfibre synthetic material, thermoplastics and carbon-fibre:
a soft and flexible microfibre synthetic material covers the main upper from back to front;
the traditional form-stripe is made using a thermoplastic, helping to retain the boot's shape and structure;
carbon-fibre is embedded into the forefoot to distribute pressure and react to the foot flexing.
Furthermore, the lace cover creates a smooth kicking surface and gives the boots a unique look, so you can have a deft touch and stand out at the same time.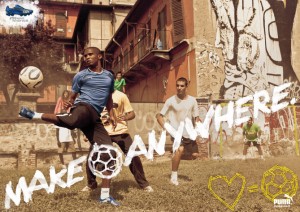 Note that this new Olympian Blue / White / Ebony release is expected to be sold at about £ 135 per pair.
#puma
Posted on March 27, 2011 Justin