White / Black / Chlorine Blue Nike T90 Laser III Elite
The White / Black / Chlorine Blue Nike T90 Laser III Elites involve a genuine performance boot beneath a brightly coloured upper, with a lightweight (yet super-strong) carbon-fibre soleplate giving the player an edge in the match's final stage.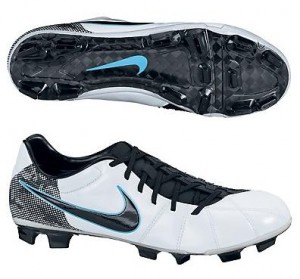 This incarnation of the T90 range involves the new ShotShield technology, with instep pods ensuring even pressure on the ball at impact for accuracy, whereas fins are strategically positioned at a different angle and a different height to enable the player to control the swerve of the ball.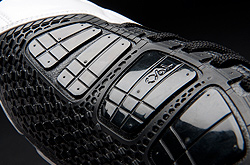 The upper material is a combination of lightweight Teijin synthetic leather and Nike's unique Kanga-Lite material, whilst a thin layer of shape correction memory foam around the toe area helps as regards better kicking accuracy.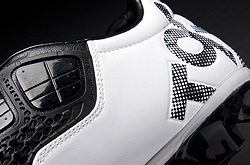 Note that these football boots are to be available for retail as from 1 April at a price of £ 250.
#nike
Posted on March 18, 2011 Justin