Blue / Platinum / Orange Nike Mercurial Vapor Superfly III
The pattern and colours of the new Nike Mercurial Vapor Superfly III releases enhance your visibility to teammates and everybody else, with an aim to create a faster pass rate and lead to fewer offsides. However, many say that these boots have had more of a visual (rather than technological) upgrade from the Superfly IIs.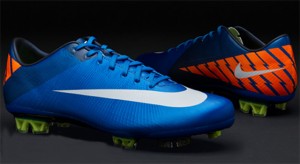 In fact, this football boot still officially weighs 210 g (as opposed to the 145 g of the adidas F50 adiZero Prime), whilst also incorporating the Nike Sense stud (having all the qualities of running spikes, extending into the ground to deliver extra grip and enhance agility).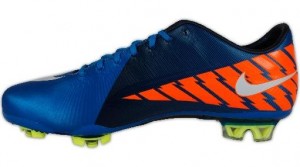 Note that Nike have priced their newest incarnation at £ 275 / € 330, being available for pre-order from 19 March.
#nike
Posted on March 16, 2011 Justin