Rare Football Boots : Bikkembergs Capitano
The Bikkembergs Capitano is another football boot of a designer nature, following its 2 predecessors (the Bix and the Tirosegno), with an upper consisting of a water-repellent synthetic microfibre and having been worn by Antonio Floro Flores.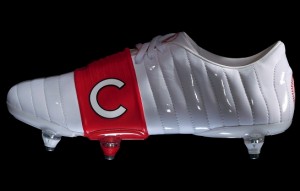 These boots have been launched after 2 years of extensive research and testing on the pitch, with an innovative construction being wrapped in a stunning design . . . the most striking feature of the Capitano is the rubber strip running across the front of the boot, invoking a captain's armband while providing for a larger striking surface.
#boots
Posted on March 09, 2011 Justin