Kaká To Wear The Adidas Predator Kinetic / AdiSonic / AdiPower?
Kaká has been spotted testing out the prospective adidas Predator Kinetic / adiSonic / adiPower boots while on training with Real Madrid, despite him being one of the adiPures' leading representatives.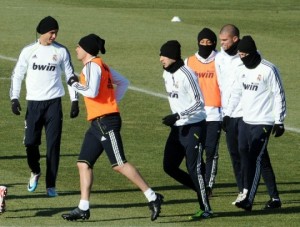 Furthermore, a picture of the Brazilian ace wearing the Sharp Blue / Electricity / Black version can be seen below, increasing the speculation as to whether adidas are going to completely re-vamp the Predator series to become a 'control' football boot and, consequently, compete with the Nike CTR360 range.
Such a move would have a huge impact on the adiPure, with the German brand also potentially not having any 'power' release.
#adidas
Posted on March 06, 2011 Justin