Standard Adidas F50 AdiZero In White / Radiant Pink / Cyan
The standard synthetic White / Radiant Pink / Cyan adidas F50 adiZero is, perhaps, priced more within most people's budget than the Prime version, despite being adidas' second lightest football boot.
Rather than employing the adiLite Twin synthetic material, this pair of football boots involves a SprintSkin upper, which leads to zero water uptake, i.e. your boots will not get heavy, even in wet conditions, whereas the studs are not multi-coloured.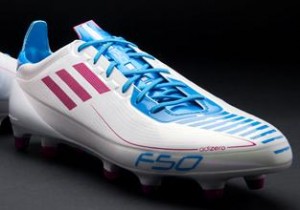 An outsole construction (called Sprint Frame) is attached to the heel counter, taking away the need for the standard insole while keeping the boot strong.
#adidas
Posted on March 02, 2011 Justin