White / Radiant Pink / Cyan Adidas F50 AdiZero Prime
The adidas F50 adiZero has revolutionised the football boots market, perhaps overpowering the Nike Mercurial Vapor range.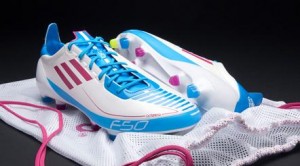 More specifically, the Primes have also taken performance to another level, by tipping the scales at a mere 145 g, i.e. 5 g lighter than their nearest competitors, being the Puma v1.10 SLs.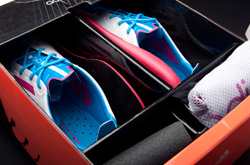 The brand new White / Radiant Pink / Cyan adidas F50 adiZero Prime has been finally released, being constructed using the adiLite Twin synthetic material that reduces weight while giving an improved feel of the ball.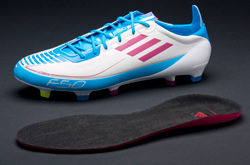 The TPU Bottom Frame sets these boots apart from the standard F50 adiZeros . . . standing out in a different colour from the rest of the boot, this band actually runs around the boot, offering lateral stability and protection against upper abrasion.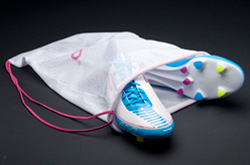 The multi-coloured Traxion stud shape and configuration provides for maximum acceleration and optimal support during movement.
#adidas
Posted on March 01, 2011 Justin