Nike Hypervenom Phantom SG Boot Test & Review
The Nike Hypervenom Phantom SG boot was tested and reviewed by boot tester, FootballisMyLife999 from Ireland. The Hypervenom Phantom is a silo marketed for agility and a new breed of attack and it was first released in June 2013. The soft ground edition boasts a combination of conical and metal studs for optimum agility on soft ground surfaces.
Check out the boot tester and review above and here are FootballisMyLife999's thoughts:
Initial Reaction: Being that there were plenty of images circulating the net months before release, I wasn't really shocked with the design. In saying that, the upper is so extraordinarily unique that getting them in hand was extremely important and as it turned out, pretty exciting. They are incredibly light and the upper is a lot thinner than I expected and they are definitely not as padded as they look.
Breaking in and comfort: Considering the amount of time invested by Nike into creating a new boot, you would expect them to be comfortable to wear. This installment took 2.5 years to development and the large number of players using them through testing shared a lot of feedback on how they felt to wear in game. Through testing, I found them to be very comfortable. Initially, I did feel like the soleplate was pretty stiff and ever after 3 or 4 wears, it was still extremely though to bend. Fortunately, this doesn't cause problems while you have them on and they actually feel decently loose through the midfoot – vitally important. Up top, the upper also has an extremely flexible feel, largely due to the mesh material that is used in the underlay. They almost have a running shoe feel across the front of your foot, only with a little extra protection. Nike has altered the heel by off-setting the seem that connects the upper around your foot. on regular releases, this is something that traditionally runs directly down toward the ground. But on this release, Nike has inched it toward the side of the heel in order to create a slightly looser, more naturally stretched feel. Well, that is its functionality in theory. Whether it was straight down or offset, I am sure the feel around the heel wouldn't change substantially enough that players would notice a difference. If anything. it is designed that way for aesthetic purposes.
NikeSkin Upper: This is the first time that Nike has used their recently developed NikeSkin on a soccer cleat and it offers a bold new level of performance. Honestly, it is a material that feels just as odd as it looks! It is the type of material that creates a barefoot type feel on the ball. The upper is comprised of a mesh underlay, a layer of skin over it and the final product is treated with ACC technology. When you get a pair in hand, the first thing you will notice is the honeycomb paneling, with that dimple effect covering the entire surface of the boot. On the ball, there really is a thin feel even though you get that raised bubble region in between each of the panels. If you are concerned that the style or pattern of the material might affect how the ball moves on control, or that it might cause it to change direction, don't be. Everything is super soft and it tends to fold as the ball connects with your feet. If you spread your toes wide against the inner walls of the boot, it actually allows your toes to push outward and creates a funny appearance, sort of like what it looks like when you push your fingers along a balloon.
Then you will notice that as you rub your hand across it, there is an extremely unusual wax like feel. Compared to a regular smooth synthetic, you get a very different level of performance when on the ball. Although there is not a focal element across the forefoot, the final product allows for the ball to roll along the surface without sticking or sliding off. It sort of sits in the mid-range between both and that really plays along the lines of what Nike has advertised. Using it for striking shots is pretty noteworthy. Personally, I found the friction created on the ball to be pretty pitch perfect for placing shots on target, especially the "pass" style shot. When you want to pick out a corner, it can compliment how you connect with the ball. In terms of shooting, the design plays a pretty important role. You get the benefit of a skin type feel across the inward panels, while the raised regions offer a little extra pop or rebound on shots. It is a unique combo that performs effectively in unison.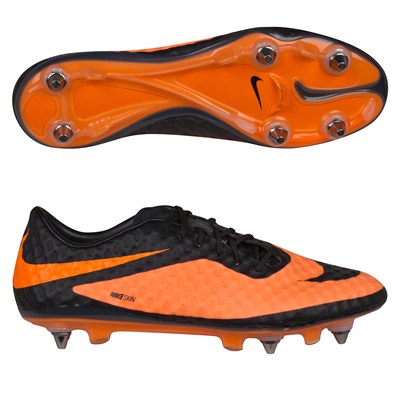 Agility: Nike has been drumming the notion of "agility" since the Hypervenom was released. It is feature of the boot that they really want fans to embrace and connect with the new silo. It is Nike's way of moving forward and progressing with the speed of the game. During the development stage, Nike spoke with several focal players to find out what they wanted from their footwear and the ability to move quickly with the ball and turn at pace was key. For that reason, they decided to move toward a much more responsive boot and the concept of agility is pretty evident when you wear them. The upper is very manageable and really adapts to your movements, allowing for additional stretch as you look to chop and change direction, while the stud configuration provides a pretty impressive level of traction in tight spaces.

Updated Lacing System: In order to increase the surface area of the strike zone, Nike has trimmed the length of the lacing system and left it sitting much higher on the boot. It has also been offset to the side. Because of this, you really only get to pull the lacing tight around the top of the boot, which shouldn't prove to be much of an issue unless you have thin feet.
How Do They Fit? This is a boot designed with a spacious fit. I have no doubt that there will be plenty of wide fitting players who will be pleasantly surprised with how the boot fits, especially through the forefoot. Because it has a mesh like feel, the Nikeskin upper has the ability to expand across your foot and I noticed that it gradually stretches over time – something that is definitely unique for a synthetic material. Players looking for a thin fit, make sure to read the section above as they might not suit.
Soleplate, Stud Configuration and Traction: Nike again looked at the area of agility to improve the functionality of the soleplate. They have created a new glass nylon soleplate. There are 2 things that are immediately noticeable about it – the stud configuration and the dark line the runs through the forefoot. That line running through the forefoot is designed to be a split toe, with the intent of providing protection to the metatarsal and a new level of agility as you push off in different directions. What this does is provide a little extra bend under your big toe compared to your little toe as you look to change direction in an inward movement, and the same is true as you look to twist to the outside. Ultimately, this is one of those additions that are really difficult to qualify.
I personally didn't notice any obvious benefits from its inclusion and even in hand I can't see what it does. I'm going with my gut on this one and saying it maybe does have a purpose – I just can't validate it. Then these is the stud configuration, for which Nike has modified the placement and design. on this version, each conical stud is thinner and features a lower profile, so you are closer to the ground and really have the ability to spring away from the surface at top speed. Added to that, the number of studs included has been decreased. This configuration features 6 studs up front and 4 in the heel, with a braking blade and stopping blade located on the forefoot.
#nike #review
Posted on August 20, 2013 Blake