Classic Boots : Goliath
Goliath Footwear was founded in 1880 by the Co-operative Wholesale Society under the name of Heckmondwike Boot and Shoe Works. Moreover, forgotten brand Goliath were the one-time sponsors of legendary English winger Sir Stanley Matthews.
More specifically, Goliath famously made lightweight football boots for Matthews, who played football for Blackpool and Stoke City. He even made several visits to the factory and put his name to a brand of boots.
Matthews was sponsored for the then-unthinkable sum of £ 20 per week, which practically doubled his wages (due to the salary cap in place at the time).
Goliath's dedication to building glove-like football boots was notable . . . the cleats produced offered little protection, simply covering Matthews' feet to give him maximum speed. Over time, the weight of the boots fell from 1 lb 9 oz to 1 lb 6 oz.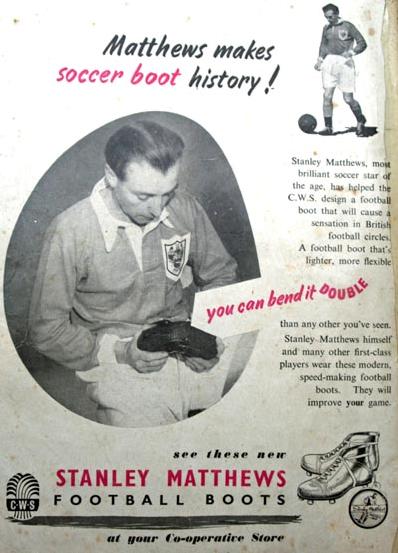 Note that Goliath were also the first to develop the chainsaw boot, which was designed to resist the cut of a chainsaw.
In 2003, the C.W.S. sold Goliath Footwear, but the company still continues to operate as one of the U.K.'s leading suppliers of safety and occupational footwear.
#boots
Posted on October 06, 2010 Justin