What Boots Does Mikel Arteta Wear?
Mikel Arteta Amatriain was born on 26 March 1982 in San Sebastián, Gipuzkoa, Spain. Up till this season, Arteta was a prolific adidas adiPure III wearer. These cleats feature a soft, yet durable, kangaroo leather upper, with an external heel counter ensuring a snug fit without adding weight unnecessarily.
However, the Everton midfielder has swapped adidas' acclaimed heritage football boot this year, opting for the adidas F50 adiZero, which, in general, is the weapon chosen by players with great pace and amazing footwork.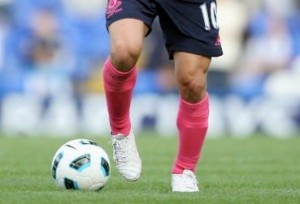 More specifically, he seems to have bagged himself a pair of slick all-white leather adiZeros, or are these the usual White / Black / Radiant Pink F50 adiZeros with a modified white tongue? The leather adiZero tips the scales at a feather-light 175 g, whilst improving comfort.
#adidas #arteta
Posted on October 05, 2010 Justin